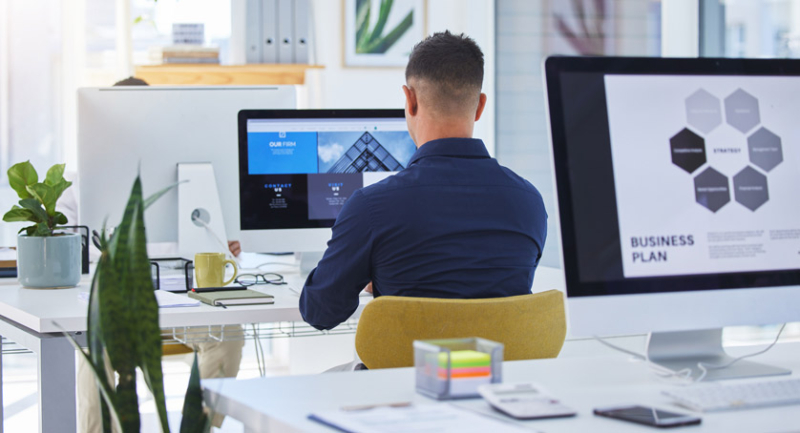 The divide between the "online" and "off-line" world has become increasingly blurred in the last decade. For better or worse, the internet has permeated nearly every aspect of our lives, from how we work and find information to how we socialize and spend our spare time. As prevalent as the internet is, you may find yourself asking "if something doesn't exist online, does it actually exist at all?"
For companies of any size, online presence is the biggest key to conversions and revenue growth. However, even in 2023, many small businesses still don't even have a website. According to a survey from Zippia in 2021, as many as 29% of small businesses didn't have a website, and 40% didn't even want to create a website. Many cited the high costs of web development, low visibility and click-through rates, or using social media instead as reasons not to invest in a website.
Consumers increasingly expect to start (and perhaps end) their buying journey online. Nearly 88% of consumers research products and services online before making a purchase, and 48% of internet users determine the credibility of a business from its website design. For a small business to be successful, investing in a good website is imperative.
But what makes a small business website effective? What does it need to do?
Inform and Convert
Even if a small business doesn't participate in e-commerce, the purpose of a website is to inform prospects of the services offered, and to convert viewers into paying customers. A lot of this legwork will come from the content on the website, such as the copy and images. But how a website looks and operates also plays a large role in how effectively the site achieves conversions.
So how do you design a business website to obtain customers? If you're unfamiliar with the ins and outs of the web design process, it can seem overwhelming. Whether you're doing it yourself or having a web design service do it for you, there are some core aspects you want to keep in mind. Here are our top 3 must-haves for small business web design:
Responsive on All Devices
Over half of all global web traffic comes from mobile devices. Therefore, any site has a good chance of being viewed on mobile first, rather than desktop. Ensure that your website is responsive on mobile devices to avoid a poor first impression on crucial mobile users. Most content management systems (CMS), like WordPress or Squarespace, have tools that automatically adjust web page layouts to be viewed on a smaller screen, like a smartphone or tablet.
Web designers can also manually tweak responsiveness settings to prioritize which content is shown on smaller screens. For example, your site may have a full-page image as a background or banner at the top of the home page. On a desktop computer, this element may look beautiful—but on a mobile device, the image could be too small to be seen or may negatively displace the text on the page. Hiding or changing the image on a mobile device can enhance the experience for mobile viewers.
ADA Compliant
The Americans with Disabilities Act (ADA) requires that business owners and employers provide reasonable accommodations for customers and employees with disabilities to prevent discrimination. Websites are considered public accommodations, and most businesses are required to make sure that their websites are ADA compliant so all viewers can access the information.
In small business web design, ADA compliance can include several aspects that make your website easier to navigate for people with visual and auditory impairments. Here are just some things you can do to make sure your design is ADA compliant:
Ensure that your site can be navigated with a keyboard and screen reader
Use proper heading tags in site copy (H1, H2, etc.) and make sure they are in numerical order to avoid confusion when using a screen reader
Provide text transcripts for videos, and/or include captions within videos
Properly label all images with "Alt Text" that describes the purpose and content of each image
enough contrast for easy visibility
This is not a comprehensive list, and there are different levels of compliance that websites can adhere to. Your site should be accessible to the widest possible audience, so take the time to design with accessibility in mind.
UX is Key
UX, or user experience, is how a viewer feels when interacting with a product. UX in web design involves addressing the viewer's needs and designing the website and content to meet those needs. No matter what industry your small business is in, you will need to ask a few key questions before you begin designing your website:
Why is my viewer or customer coming to my website? (Making a purchase, seeking information, etc.)
What information is most important to the viewer?
What does the viewer find enjoyable in a product?
To design effectively for UX, you'll need to create customer personas to envision who will be using your website. Then your site will need to cater to creating the best experience possible for that user. Put crucial information front and center on the home page; make navigation to other pages easy with clearly-labeled buttons; ensure the viewer has multiple opportunities to achieve their goal on your website by adding call-to-action buttons throughout each page; and don't forget about aesthetics! UX also encompasses visual aspects of design and branding like color palette and voice. If your site is visually pleasing and answers your customers' key questions, they're more likely to have a positive experience with your brand.
Design Your Small Business Website with LCS
If designing or refreshing your website sounds overwhelming, LCS' Web Design team can take the work off your plate. Our LCS designers are ready to put their expertise to work for any type of business or nonprofit organization.
We have fully-custom builds and templates available to choose from, and our team can even purchase a domain for your site and build it from the ground up. Small business web design with LCS is an affordable way for your company to have a beautiful, responsive, and ADA-compliant website with dedicated customer support. Learn more about our web design services and check out some of our previous work!