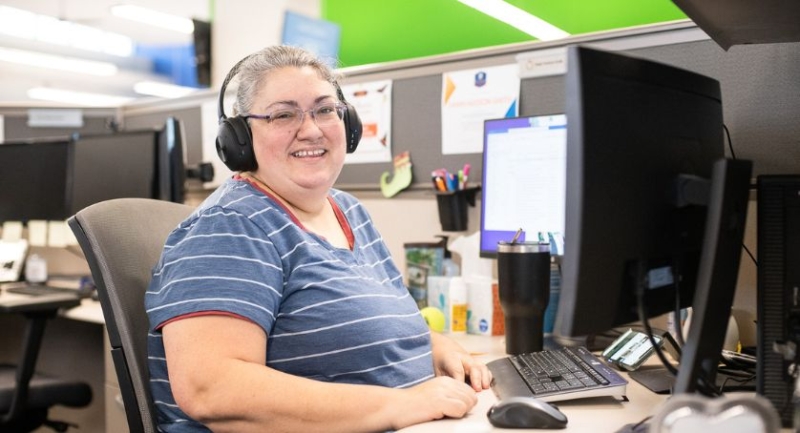 What goes into a fantastic customer experience? Is it that the product works as intended? Or perhaps it's how enjoyable the experience is? For many customers, however, the difference between a poor customer experience and an exceptional one lies in how representatives from the company interact with them. If the representatives are unhelpful, disinterested, or incompetent, customers can easily sour on the product and the company. At LCS, our Customer Success Specialists are here to ensure that experience doesn't happen. Customer success specialists are the face and voice of most companies, therefore, how they interact with customers is of the utmost importance.
Our team takes great pride in our long-standing customer service record. The award-winning Rent Manager Product Support team is our first line of the customer experience. They work tirelessly to answer inquiries, solve problems, and help our customers use our software to the fullest potential. But there is another team that truly takes the Rent Manager customer experience to the next level—the Customer Success Specialists. It's these individuals who help customize and improve the user experience for each customer, working hard to learn the customers' businesses inside and out and provide solutions tailored to their specific needs.
"Much like support, we troubleshoot incoming calls for immediate needs, whether that is technical issues, how-to questions, financial support, and more. But we go beyond troubleshooting and work with customers to demonstrate new release features and walk through areas of Rent Manager that customers are not currently utilizing."

Andrea Godby, Customer Success Specialist II
Helping Customers Succeed
Our Customer Success Specialists provide a personalized approach that is a unique feature of the LCS and Rent Manager support ecosystem. At LCS, we appreciate every single one of our customers and want to treat them with the level of detail and attention they deserve. As the name suggests, the Customer Success Specialists are dedicated solely to each customer's success—not only with Rent Manager, but with their entire business. Each Specialist is assigned to customers as their go-to resource for all things Rent Manager. They cover every aspect of the software, including troubleshooting, implementing new features, and demonstrating components that the customer may not be aware of. The relationship is often a running dialogue between the customer and their Success Specialist, consisting of regular meetings and check-ins, either on a schedule or an as-needed basis.
"What I love about this role is that I can both have routine and days that are totally different! I have some customers who pre-schedule meetings with me on a weekly or monthly basis. This gives me the opportunity to really get to know my customers well and maintain a rapport with them."

Danielle Nathan, Customer Success Specialist II 
The Customer Success Specialists also act as advocates for their customers within the LCS organization. If their customers need a feature that has not yet been developed, the Specialists will approach the topic with the appropriate departments and executives at LCS to bring the customers' needs to light. This component of the relationship is crucial to building trust and rapport with the customers—with a Customer Success Specialist in their corner advocating for features that will improve their business and overall experience, the client is more likely to feel like their voice matters and their needs are being met.
A Breadth of Knowledge
"One of the biggest challenges I face in this role is the depth and breadth of knowledge required to support the various needs of customers. For example, some customers may need assistance with accounting or financial reporting, while others are interested in custom reports and scripting, and yet others are working to incorporate new Service Manager features. This requires great flexibility and a desire to continuously learn and grow."

Johnny Spencer, Customer Success Specialist III
With software as vast as Rent Manager, the Customer Success Specialists need to be well-informed of not only the software, but of user resources. If their customer has a question or problem that they don't know the answer to, they need to know where they can look or who they can ask to answer the customer's question in a timely manner. The team members often work across various departments, using their connections with other LCS employees to find the best solutions for their customers. Keeping up with Rent Manager training helps, too. If they're not working with customers, you can find most Customer Success Specialists in Rent Manager University, consuming the training materials they need to help their customers make the most of the software. It requires a lot of communication and hours of training, but the success of each customer is what sets Rent Manager apart from the rest.
"Unlike other departments that have 'specialties,' we can have questions from accounting to metered utilities to scripting and then back to CAM Reconciliations. […] If I don't know a topic, chances are good that someone else on my team will know. The LCS community is so warm and welcoming with questions; even if I have never spoken to someone, they are always willing to help and answer my questions!"

Danielle Nathan, Customer Success Specialist II
The Personal Touch
Customer Success Specialists aren't just performing a base-level customer service task for their assigned clients. The relationship between each Specialist and their customer is not just a professional connection, but a personal one as well. Most often, they work with just one or two contacts from each company, getting to know those contacts on a level that fosters mutual understanding, trust, and rapport. Over the course of regular (sometimes weekly!) calls, the relationship develops into something that most property management professionals would rarely find with any other company.
"The advantage to our customers of working with a Customer Success Specialist is that not only will they have a dedicated contact who understands their business needs, they have an entire team dedicated to this purpose. This allows for more effective communication between both sides and leads to increased utilization of Rent Manager as the team is aware of the customer's needs and can make appropriate recommendations to improve the user experience."

Johnny Spencer, Customer Success Specialist III
"The most rewarding part of the role is the customer relationships that I get to build. Since we interact on a regular basis, I get to know our contacts and celebrate their wins. Those wins can be professional; business growth, implementing new processes, or personal like welcoming a new baby, or celebrating a birthday. It's rewarding to get to know the people behind the email."

Andrea Godby, Customer Success Specialist II
Customer Success Specialists are the LCS Difference
Every business is unique, therefore each relationship between the customer and the Customer Success Specialist is also unique. For a product that can be customized in endless ways to fit multiple business needs, it is a crucial cog in the LCS and Rent Manager machine that sets us apart from the rest of the property management industry. The time, dedication, and care the Customer Success Specialists put in lends to a friendly, supportive atmosphere. It's truly that connection-oriented mindset that matters the most.
"The friendships that we build with our customers are real. Frequently before getting down to business on a call, you will hear a CSS talk with a customer about their pets, kids, or the matching shoes all the RMUC staff members would be wearing! We value the personal connection with customers that make us seem more human and less 'robotic customer service representative'."

Danielle Nathan, Customer Success Specialist II
If you're looking for a more personalized support with Customer Success, please reach out to your Rent Manager Sales representative.