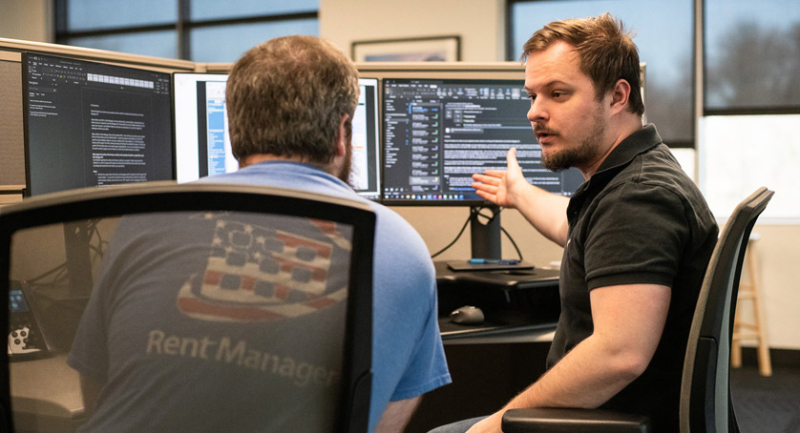 "Have you tried turning it off and back on again?"
It may be a stale joke at this point, but in our technology-heavy world, we would be lost without the expertise (and sometimes obvious solutions) of IT Support. Anyone who has nearly thrown their computer out the window in frustration knows just how critical a friendly, knowledgeable IT team is. Enter the IT Support Specialists of LCS.
At LCS, IT Support Specialists really need to be on their game—they are responsible for troubleshooting and solving both internal and customer technology issues. From making sure employees are set up for hybrid work success, to helping customers with onboarding and support of products like NDT phone systems, the IT Support Specialists never have a dull moment.
"Most of the time, no two calls are the same, so the troubleshooting process will always be a little different."
Benjamin Scheff, IT Support Specialist
A Day in IT
Each day in the IT Support department brings something different and new. While some customers or employees can experience similar issues, the constantly changing nature of technology and challenges of a remote world can throw a wrench in even the most routine request. That's when the IT Support Specialists put on their thinking caps to solve problems and come up with creative solutions to quickly get their clients back on their feet.
"When you are working in the IT industry, you will always encounter something you aren't familiar with. Every day we learn something new, it just requires patience and research."
Mackenzie Petit, IT Support Specialist
Internal and External Expertise
Many of their responsibilities lie within the walls of the LCS headquarters. On any given week, the IT Support Specialists are setting up new hires' in-office equipment or fielding support tickets requesting help with connection or usability issues. With a workforce of over 400 employees, a lot goes into just keeping LCS's technology running!
The other side of the IT Support coin involves assisting customers with issues that may arise when setting up or maintaining their business tech. While the Product Support department handles questions about how to use the Rent Manager software, or troubleshoots problems within a program, the IT Support Specialists are making sure the hardware our customers rely on is fully operational. This includes helping NDT customers resolve phone or network issues and assisting with any changes to their phone system. Sometimes, the biggest challenge can be the distance when troubleshooting over the phone.
"The main challenge we face is working with the customer to figure out how to best reach a solution remotely. Since we aren't out in the field for these NDT issues, walking the customer through specific steps is very important to getting their issues solved quickly."
Benjamin Scheff, IT Support Specialist
Meeting Challenges with Teamwork
The key to getting customer or employee tech issues resolved quickly? According to our IT Support Specialists, it's knowing when to ask for help or utilize resources. Even the most knowledgeable tech wiz can't possibly keep up with every industry update–so leveraging the power of the IT Support Specialists and their team leader to tackle challenges is invaluable. Many tasks can involve more than one specialist—so there's a lot of collaboration that goes into each solution.
"Troubleshooting to find out what is the root cause of some of the issues can be daunting, but with the support structure of my team around me I am not afraid to ask questions when I get stuck."
Andrew Dahlenburg, IT Support Specialist
Getting to work with like-minded individuals to solve problems is a reward in and of itself. However, being able to make a customer or employee happy with their solution is really what makes the job worthwhile. Our IT Support Specialists thrive every day thanks to the pride in a job well done and the satisfaction of figuring out a tough puzzle.
"The most rewarding feeling is solving a customer's problem. […] Whether it's a 5-minute call or a 2-hour call, ending a call with a happy customer and their problem solved is always rewarding."
Benjamin Scheff, IT Support Specialist
What Makes LCS Different?
As a nationally recognized Top Workplace, LCS stands out from other software and IT companies—a fact that several of our IT Support Specialists who have worked in other areas of the industry can attest to. From student helpdesks at universities to field techs working on VoIP phone installations, their previous experience spans the entire Information Technology field.
The common thread that they say makes LCS stand out from their previous experience? It all boils down to the people.
"I have never worked at a place with such a tight-knit, welcoming, and empathetic cast of people. The moment I need help with something or if I am having difficulty troubleshooting something, I have 10 people who drop everything to help."
Mackenzie Petit, IT Support Specialist
Just like a piece of technology needs all the right parts to function properly, LCS' leadership takes pride in fostering a collaborative, friendly culture that recruits and retains the right people. When they are not helping employees set up their computers, our IT Support Specialists get to know each other and have fun together at the frequent company-wide events hosted during the workday. Even within their own department, the specialists say they take this company culture a step further.
"The other difference is having a reliable team to go to if I can't get something figured out. The rest of the IT department here is extremely helpful, and they're always ready to help me work through a ticket."
Benjamin Scheff, IT Support Specialist
Final Thoughts
What's the most important thing that LCS's IT Support Specialists want their customers and coworkers to know? That no matter what, they are always available to provide their expertise and help with any issue. And even if the solution to something seems obvious, and you may think it's embarrassing to ask for help, Andrew Dahlenburg summed it up the best:
"We are always here to help you and there are no stupid questions."
Whether they are helping us log in or reconnecting our account, we are so thankful for our LCS IT Support Specialists! If you have a knack for technology and troubleshooting hardware, there may be a place for you in our hardworking, fun-loving IT Support department! If you're interested in joining a tight-knit workplace that takes pride in solving problems together, review our current openings and apply today.