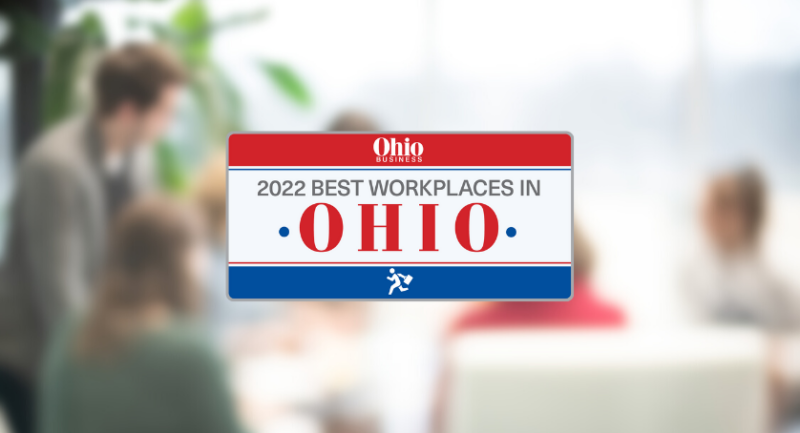 It's one thing to think we have the best work environment. It's another to be recognized again and again by impartial parties for our commitment to creating an award-winning company culture. Ohio Business Magazine recently named LCS a 2022 Best Workplace in Ohio for the sixth consecutive year in recognition of our employee-centric philosophy and dedication to curating a pipeline of future talent.
The Best Workplaces in Ohio invites businesses throughout the state to nominate their organization and a select committee chooses a list of winners. A total of 56 businesses that demonstrated a commitment to their employees and their communities were chosen as this year's Best Workplaces in Ohio. LCS—along with fellow winners, University of Cincinnati Medical Center, Wings and Rings, and Ohio Hospice—were named a top place to work in the "200+ employees" category.
Celebrating Employee-Centered Business
One of the key metrics for this award is the benefits each organization offers current and future employees. Since LCS was founded in 1987, we've focused on nurturing our greatest asset—our people—by encouraging open communication and making personal and professional development a priority. In addition to providing 401(K) and profit-sharing opportunities; hybrid work schedule options; and competitive health and wellness benefits, LCS stands out for our training and career development programs. Every new employee is assigned a coach who works with them throughout their tenure at LCS, providing tools, instruction, and information they need to meet professional and personal goals.
Chief Operations Officer, Brittany Christenson summed up LCS' success in two words: "Our people." Cultivating a strong employee base sets the foundation for the rest of the company's accomplishments. "LCS' commitment to our employees starts on day one. Our hiring strategy is to wait for optimal candidates for each vacancy, rather than simply 'filling seats.'" She continued, "As we do with our customers, we work hard to develop long-term relationships with our employees and treat everyone like the vital assets they are."
Fostering Future Talent
LCS has worked hard to develop a strong relationship with colleges and universities across Ohio, including the University of Cincinnati, Xavier University, Miami University, Ohio University, and others. We have welcomed more than 80 student employees over the past three years and invited 20 graduates to join our team as full-time employees. With specific career-tracks that guide interns and co-ops as they transition from student to full-time staff, it's easy for our returning students to see a clear path for themselves at LCS.

In addition to our connections with area schools, we are also a Cincinnati Tech Elevator partner, hosting bootcamp participants for on-site sessions with our developers. The program helps participants advance their careers in the tech industry by providing hands-on instruction and educational opportunities during each 14-week session. LCS has participated in nine Tech Elevator sessions to date and has hired several program graduates as full-time employees.
Whether new staff members are joining us after years of co-oping, or are entirely new to LCS, we work to make sure LCS feels like home.
If you're interested in joining one of the Best Workplaces in Ohio, be sure to check out our job openings here.