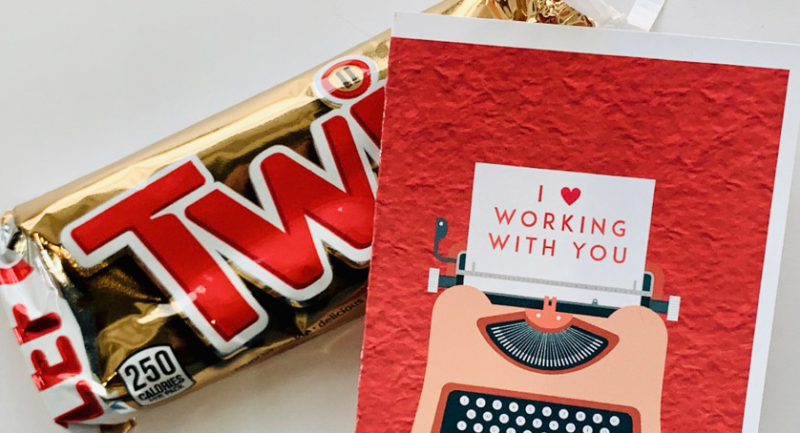 Happy Valentine's Day! Love is in the air, and while today may be all about spending quality time with your loved ones, we couldn't help but think about how our customers and employees show us love every day.
As a company, we cherish feedback from all avenues. Receiving and implementing strategies to improve our business operations is how we continue to provide better services for our customers and a better work life for our employees. Suggestions for improvement are valuable, but we can't help but get the warm fuzzies whenever we get a genuine compliment from a customer, or when an employee tells us just how much they enjoy working at LCS.
We've compiled some of the sweet testimonials our customers and employees have shared about LCS recently.
Our Customers Have Our Heart
If it weren't for our wonderful customers, we wouldn't be here! Every day we strive to make our customers' businesses better with our products and services. We support making property management as stress-free as possible with our flagship product Rent Manager and give companies the technological resources—like NDT VoIP Phone Services or cybersecurity with our IT Services—they need to grow and thrive. Our award-winning customer service, excellent training team, and dynamic User Conference are just some of the reasons our users love working with us.
"Our experience [with Rent Manager/LCS] has been great so far. It's not only the software, but it's the customer support we've received. When you're new to the system, you have a lot more questions, so it's been a wonderful experience."
Fred Rice, Spectrum Utilities
"Your support is where it's at! [It's] the best feature. And the available education—Thursday classes, RMU (Rent Manager University), webinars, etc."
Rachel Crow, Owner/Operator of ACE Property Management
"All the team are friendly and know the product. This makes it so much easier for us who don't. Also, they are very patient with people, such as myself, who are not computer savvy."
Sandy Granville, Innisfail Self Storage & RV Parking
"[The team] is beyond excellent. Whatever you all are doing to train your support team, please continue [to do so]. Each team member has always been extremely knowledgeable and helpful. They make service calls easy and quick."
Patience, 215 Rentals LLC
"Your team is always very helpful and professional. Every single call I have ever made has been great, and I ended the call feeling as if my business was truly important to you."
Lance Brace, Helios Property Management
Fall in Love with Our Team
While our customers are our bread and butter, we wouldn't grow without our employees' hard work and dedication. Part of being a top-rated workplace is giving back to your team, so we continually strive to make LCS the best place to work. From fun events to personalized career coaching, every part of our office culture is built around showing our employees how much we value their contributions.
"The company culture at LCS is unmatched from any company I've worked for in the past. Whether that's being greeted at the door with a welcoming smile, having Skyline catered, or filling out March Madness brackets and competing with my coworkers, there's always something going on to engage our employees with one another, which is something I value."
Evan Grawe, Product Support Team Leader
"The hybrid schedule of being able to work from home 3 days a week and in the office 2 days a week is a perfect balance for me. I get my time in the office with my coworkers having that face-to-face time but then I can also be at home 3 days a week getting a lot done because you don't have those office distractions."
Liz Engel, Sales Representative
"I wanted a place that I felt like I was included, my coworkers were included, and that there was great support all around. And what I didn't expect was how much that was really true here at LCS. People love working here, people want to be in the office, they want to collaborate with each other, they want to support each other."
Joe Easton, Channel Partner Manager
Spread the Love Around the Office
Part of showing employees how much we value them includes creating an environment where praise and 'pats on the back' are readily shared between coworkers. The virtual rewards site, Fond, allows employees to give shoutouts to their fellow teammates for a job well done, or just to say thanks. Here are some of the recognitions shared on Fond this month: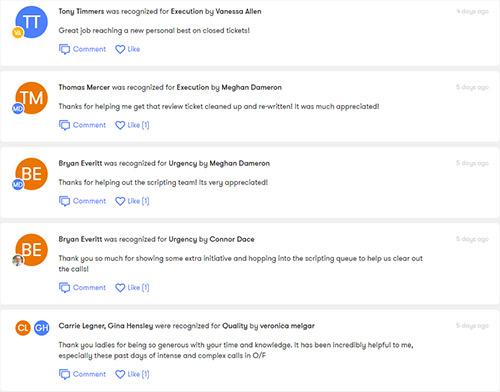 And while digital kudos is always nice, a handwritten note is something even more special. In honor of "National Send a Card to a Friend Day", employees were provided with cards and envelopes to write a note to their coworker expressing their appreciation, or even just saying hi! We were definitely feeling the love as we dropped off the cards to everyone's desks.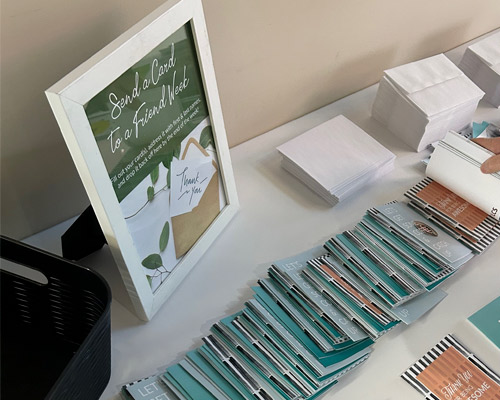 Who Do You Love?
A little appreciation goes a long way all year round, not just on Valentine's Day. However, if you're feeling the love like we are, why not take a moment to show your coworkers, customers, or friends just how much you care about them with a handwritten note, just like we did!
If you've been thinking about a career change, there's never been a better time to fall in love with what you do. Visit our careers page to check out our open positions and apply!