Without a doubt, the most-anticipated LCS event is our annual Rent Manager User Conference. This four-day event brings together professionals from across the US to learn from industry experts, network with peers, and get inspired to grow their businesses. Hosting these conferences in top cities like Colorado Springs, Las Vegas, and New Orleans takes a herculean effort. From preparing the curriculum for over 70 sessions to coordinating the logistics of hosting over 1,000 attendees, we are sharing a behind-the-scenes look at the marketing efforts and session planning—two important elements that help to make our conference so successful.

Planning isn't Everything – It's The Only Thing!

Coordinating events of this size requires a lot of careful planning. Our conference team starts the preparation for RMUC over a year ahead of time. Both large-scale needs like scouting and booking the location, and smaller-scale tasks like assembling and shipping centerpieces, must be accounted for. From planning the schedule to selecting speakers, every detail is thoroughly reviewed to maximize each attendee's experience. Once the location and schedule are set, the hard work of developing a conference theme begins!

Messaging That Matters
Our graphics, marketing, web design, and planning committee teams work to create signage and messaging that provide attendees with the information they need. RMUC is a highly anticipated event so there are a lot of eyes on our conference website, emails, and social media posts. To create cohesive branding, our marketing team starts by choosing and building a theme for the conference. This theme not only influences the design elements of the digital and printed materials, but also inspires the conference's overall tone. This year's theme, Marvel at the Possibilities, encourages participants to reach for the stars – literally – with space-themed designs and star-studded backgrounds. Our Opening Reception, the kickoff to our conference, also plays off our theme with an epic "Heroes vs. Villains" inspired party. Detailed brochures outlining each session, large-scale displays, streamlined surveys administered at the end of each presentation—every message is thoughtfully designed.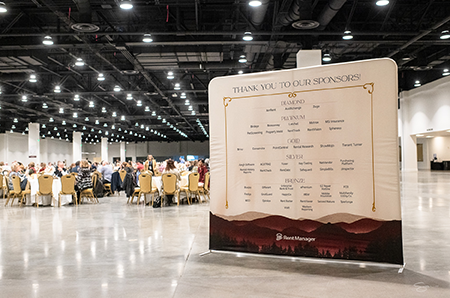 Practice Makes Perfect
The employees at LCS want our conference to be an inspiring and educational experience. We carefully craft each session to ensure the presentations are engaging and informative. Employees interested in speaking at our conference must try out in front of a panel of conference committee members presenting a topic of their choice. Topics deemed relevant, informative, and helpful to our audience are selected. Since our attendees come from diverse industries, we provide a range of training to meet everyone's needs. Once all topics and speakers have been selected, seasoned conference pros work with newer presenters to help them hone their message. It's common for speakers to run through their session three or four times to an all-employee audience to ensure their presentation is just right. The rigorous rounds of reviews each session goes through culminate in well-practiced presentations that leave our audience wanting to return year after year.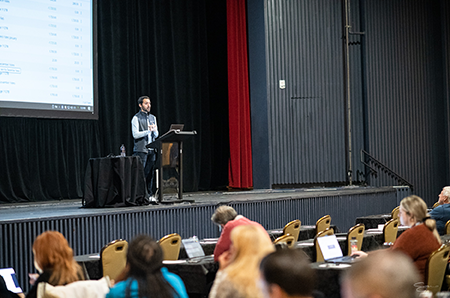 There are many more details beyond the marketing and session preparation necessary to execute a memorable conference. While only a portion of LCS employees attends RMUC, making this event happen is a true team effort that requires the hard work and dedication of every department. If you are interested in learning more about RMUC.22, check out our Conference Website. Registration ends on September 26th.