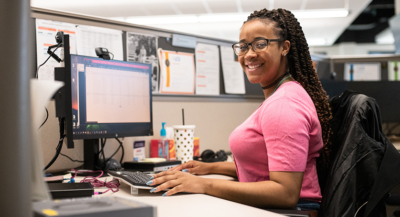 The perception of a call center tends to be a cold, isolating space filled with unhappy operators speaking with irate customers. It doesn't seem like a recipe for success. After all, happy employees translate to happy customers.
Walking through the LCS Product Support department would push that negative picture out of your head. You might see live-action Mario Kart races or hear laughter coming from a team huddle. This friendly, fun atmosphere is what inspires our Product Support Specialists to strive for customer service excellence. And with our recent Bronze Stevie Award for "Customer Service Department of the Year," we are on the right track.

"We are considered one of the top workplaces in Cincinnati for a reason. We know how to have fun while taking care of our customers."

–Megan Gregory, LCS Product Support Specialist
Customers-First Mentatlity

Our customers are at the core of our success at LCS, something our Product Support Specialists fully understand. What might seem like small inconveniences to someone on the outside could be a major pain point for our larger property management user base. Problem solvers by nature, our support reps aim to resolve these issues as quickly as possible. The fast-paced grind of working through tickets—12,945 in January alone—is satisfying, especially when the positive feedback rolls in.

"The most rewarding part of my role is when you feel like you really made a difference in a customer's day. Often, customers call in about issues that are very important to them, and when you can give them a quality resolution, they are extremely thankful."

–Tony Timmers, LCS Product Support Specialist

Most of our customer interactions start with a phone call or email. Using our service desk software, qManage, our specialists create tickets to document the cause and resolution of issues. This record is a great resource for future calls, and to keep track of issues that may be more widespread. When tricky questions come up, teams work together to share ideas and brainstorm solutions. After all, everyone has the same goal to provide customer service excellence! Once we have shared a solution, our customers are quick to share their relief and thanks. And our teams are just as quick to celebrate each other's wins!

"Often at the end of a call, I have a customer tell me how much they appreciate me helping them through their issue and how they can always rely on our support team. This direct instant feedback makes you realize that you have positively impacted someone's day and that you are part of a team that has done so reliably. Happy customers who have regularly had their expectations met and exceeded are regular rewards. We are also encouraged to support our peers, so seeing your efforts develop others is extremely fulfilling."

– Bryan Everitt, LCS Product Support Specialist
Always Room to Grow
Support members stay on top of our evolving software with weekly dedicated training about Rent Manager updates. This time away from the phone ensures our teams are always knowledgeable and ready to answer customer questions. Each support rep is also assigned their own career coach. These coaches work with each employee to set and achieve goals, explore cross-training opportunities, or just be a resource on all things LCS. This unique coaching program places career development directly in the hands of our employees.

"Here, at LCS, I don't feel like just another employee who is replaceable. My team wants me to be successful. I've had meetings on where I could see my future going with LCS and then management actually tries to help me meet my goals. If I have feedback, they will take what I have to say into consideration."

– Megan Gregory, LCS Product Support Specialist
Meet The Problem-Solvers Serving Up Customer Service Excellence
To provide the best support for our comprehensive Rent Manager Software, the department is divided into three dedicated teams: Accounting; Integrations, Mobile, and Scripting; and General Support. With a separate, specialized focus, each team provides customer service excellence. Learn more about each team below!
Accounting For Everything: The Accounting Team
Our flagship product, Rent Manager, offers a vast number of accounts payable and accounts receivable functions. Our Accounting Support team plays a key role in ensuring our customers have smooth transactions and balanced books. The 15 dedicated members on this team assist users with setting up Accounts Payable processes, financial reports, and much more.

"LCS fosters community and culture by hiring people who have great attitudes, are capable, and want to learn. This allows the culture to build from the bottom up. Management listens to and works with all staff members to make this a great place to work."

–Sarah Now, LCS Product Support Specialist
Plugging In to The Problem: The Integrations, Mobile, and Scripting Team
16 of our dedicated staff makes up the Integrations, Mobile, and Scripting team. The Integrations queue supports our customers using Preferred Partner Integrations that are built into Rent Manager, such as Zego, AmRent, AvidXchange, and LeaseTrack. The Mobile queue handles calls for all of our web-based products and mobile apps—including Tenant Web Access (TWA), Owner Web Access (OWA), rmAppSuite pro, rmResident, and more.

"From my experience in other companies, support staff are often treated as second-class citizens compared to other administrative or direct revenue-generating departments. I can happily say that I have never once experienced this at LCS. We are never excluded from company events and our leadership values engagement. Every support specialist has a dedicated coach who helps guide your development in concert with the support department leadership, and you feel genuinely cared about. I've seen several companies where support staff are merely treated as means to an end, but at LCS we as people are treated as ends ourselves."

– Bryan Everitt, LCS Product Support Specialist
Supporting The Team: The General Support Team
Our largest by far, the General team handles calls that come through the General and Technical queues. They are also responsible for addressing the vast variety of emails that come into the support inbox. These support staff help Rent Manager customers with reports, user permissions, importing questions, setting up recurring charges, and more.

"A typical day is never quite typical. Almost every day in the office is always something new and fun. Whether it's some friendly banter between other co-workers, a fun planned event for the day, or maybe a manager just going out and grabbing Costco hot dogs for everyone in the office. No day is ever the same."

–Andrew Nishimori, LCS Product Support Specialist
Product Support and Customer Service Excellence
Our LCS Product Support Specialists are vital to our company success. They are on the front lines when it comes to answering customer questions. It is their hard work that has propelled LCS to be an industry-leading and award-winning Customer Service department. Our users rely on their welcoming voices, knowledgeable advice, and quick solutions. And our internal teams can also rely on them for friendly advice and helpful tips.

"I think that LCS does genuinely care about its own employees and the customers themselves. Everything the management staff and executives do is trying to better either our experience or to better the experience for the customers from what I have seen while being at LCS."

-Michael McDevitt, LCS Product Support Specialist
We couldn't provide customer service excellence without an exceptional Product Support team. Want to join our Support Department? To learn more about our current openings, click here.