…And Brandi is as genuine as they come! Born in Lansing, Michigan and raised in Toledo, Ohio, Brandi now calls Cincinnati home. She's been with LCS for four and a half years and we're so glad to have her on our team!
Working alongside our Customer Experience department as a Training Specialist, Brandi is always there to offer a helping hand throughout the Rent Manager training process. Her natural teaching abilities and dedication to helping others learn and succeed has made a big impact on both our employees and customers.
Recently, we sat down with Brandi to talk about her career, professional growth, and hobbies.
WHAT DOES A TYPICAL DAY AT LCS LOOK LIKE?
In the Customer Experience department, it is all about maximizing potential! Brandi focuses on understanding the software needs of our customers and uses that knowledge to craft a customized approach to training. Her day-to-day is spent building training content and giving our new hires, employees, and customers the information they need to be successful within the software. Brandi is a people person, and her favorite thing about her role is getting to work with BOTH our employees and customers.
HOW HAS LCS HELPED YOU IN YOUR CAREER DEVELOPMENT?
"As a Training Specialist, I am learning a great deal about not only delivering training but developing and building training content as well." Brandi understands what works and what doesn't, and how to help our employees and customers on an individual level. With so many tools readily available, she is dedicated to delivering the best content for success.
WHAT LCS-RELATED PROJECT OR ACCOMPLISHMENT ARE YOU MOST PROUD OF AND WHY?
Brandi says working on the Study Hall Training Project with the rest of her team has been the most fulfilling. After taking an instructor-led class, trainees will attend a self-paced "study hall" session where they simply apply what they've learned to complete questions and activities and ensure their understanding. All our existing trainings now have a "knowledge check" component that enables users to cement their skills. This is a direct result of Brandi and her team's dedication. "It was great to see this idea come to fruition," Brandi shared.
WHAT DO YOU LIKE TO DO OUTSIDE OF WORK?
When Brandi isn't hanging out with her three daughters or catching up on reality tv shows, you can find her leading a fitness class! Her favorite class to teach is Pound Fitness—a cardio drumming exercise that allows you to release frustration and pent-up energy while doing squats, lunges, and tightening your core. Her motto is, "Hit the floor, not people."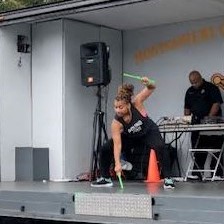 Thank you, Brandi, for all your hard work and support! If you would like to participate in our Employee Spotlight series or nominate one of your LCS coworkers, please email Megan Wolfe at megan.wolfe@lcs.com.
If you're interested in joining Brandi as an LCS employee, check out our open positions here.