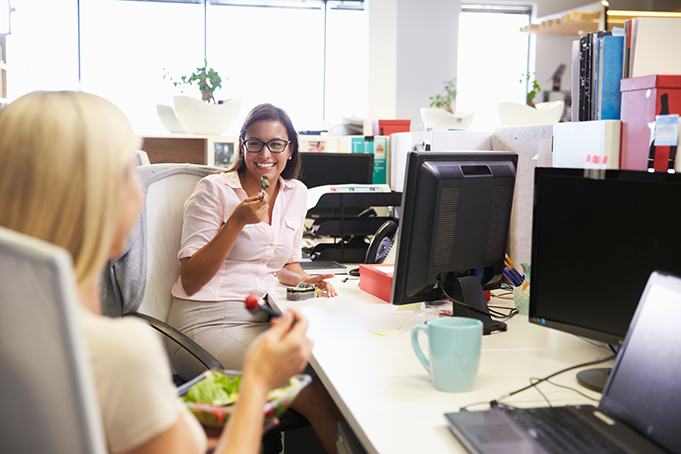 Mental health in the workplace has been a hot topic for years. As office cultures evolve, the steps you can take to ensure you remain mentally healthy have also changed. Keep reading for our top tips to prioritize mental health in the workplace!
1. Keep Learning
We've all gotten stuck in a monotonous routine. Log in to our computers, stare at a screen, answer emails, etc. It's great to be prepared for each day, but when we just fall into a routine of turning our brains off and going through the motions, we end up like zombies shuffling through the day. Not only can this put us in a mental slump, but it can lead to cognitive decline over time. The key to staying mentally healthy? Keep your brain active and keep learning.
That's right, even if you've landed your dream job, that doesn't mean you should stop learning. Training your brain with new skills and information can positively impact your overall well-being. Continued learning at work has many benefits, including increased job satisfaction, leadership potential, confidence, and more!
Seeking out additional learning opportunities doesn't have to mean going back to school. You can take training courses to refine skills you've always had an interest in. There are also many great podcasts, blogs, and books that can provide in-depth information for little to no cost. Seeking challenging activities builds and maintains your cognitive skills—improving memory, focus, and more!
2. Get Moving
Movement isn't just good for your body, it's good for your brain! We know that physical activity releases endorphins which can improve your mood. But the benefits of adopting a fitness routine extend beyond feeling better physically and emotionally. Getting your blood flowing can help sharpen your problem-solving skills, focus, and reduce the risk of cognitive decline. Weekly exercise can also decrease the feeling of anxiety. The simple act of incorporating more movement into your daily routine can have a profound impact on overall health.
A word of caution: building exercise into your routine should reduce stress, not cause it, so don't feel like you need to sign up for a marathon. Even small amounts of movement can have a beneficial effect on your mental health. A recent study found that as little as 6 to 9 minutes of vigorous activities can improve memory, planning, and organization. The key to reaping those benefits is to do activities that increase your heart rate. Try going up and down the stairs a few times or even taking a brisk walk around the office. The small things can have a big impact!
3. Be Social
Today, most professionals will spend one-third of their life at work. Jobs take up a lot of our time, so your relationships with your coworkers have a big impact on your mental health. In fact, work friendships have been shown to increase happiness, health, and even lifespan. Beyond that, it makes sense that having a work friend makes your job more enjoyable. Yet, only two out of ten workers say they have a colleague they can share their personal life with. If you find yourself missing out on work friendships, there are a few simple steps you can take to create more meaningful connections at the office:
Actively participate in team building and company events. Your company likely already hosts social events, so start attending them! And if not, be a driving force—anyone can start a team-building activity. You never know who you might make a connection with.

Recognize your teammates' accomplishments. Give your colleague a shout-out for a job well done with either an email, a hand-written card, or even a visit to their desk to tell them in person. Who doesn't like a compliment?

Take an interest in your coworkers' personal lives. Everyone likes to talk about their passions and hobbies. If you notice an alumni sticker or pet photo, don't be afraid to ask questions to get to know your teammates better. You might find you have something in common.

Don't wait for meetings or emails to check in. Instead of waiting for circumstances to push you together, stop over just to say hi or even invite your teammate to lunch.
4. Create a Mentally Healthy Focus
We drink water, take walking breaks, and try to get enough sleep at night to improve our physical health… so, why is it so hard to create routines to improve and protect our mental health? For one thing, mental health is harder to track because it lacks certain measurement standards available for physical health, like weight and blood pressure. There is also no one-size-fits-all treatment when it comes to mental health—a relaxing activity for one person could be a stressor for another. Not setting aside enough time is another factor that often drives people to neglect their mental health. With only so many hours in the day, it can be tempting to just push through until you can see results. However, placing a focus on your mental well-being doesn't necessarily mean a dramatic lifestyle overhaul.
The key to a mentally healthy lifestyle is routine. Start small, with just a few new healthy habits that you can work into each day. The best part is you don't need to wait until the workday is over to get started. Start taking a walk at lunch or grabbing coffee with a coworker every Friday. These small steps can be the building block to a happier, healthier life.
How LCS Prioritizes Mental Health at Work
At LCS, our employees are our biggest asset. We recognize that healthy, happy teams are also the most productive and longest-tenured employees. We offer many options that our employees can use to take care of their mental health in the workplace. Our LCS teammates can enjoy:
Walking paths surrounding our wooded campus
A variety of monthly social events
An on-site game room and fitness center
Continued educational opportunities
Quarterly check-ins with Professional Development Coaches
In honor of Mental Health Awareness Month, LCS is offering our employees a variety of ways they can do some self-care while at work and even at home. Each week for the month of May, we'll be posting different events and activities. Be sure to keep an eye on our Facebook, Instagram, and LinkedIn to see what we are up to!
If you are looking for a change of scenery that involves a new career, check out our current openings here!