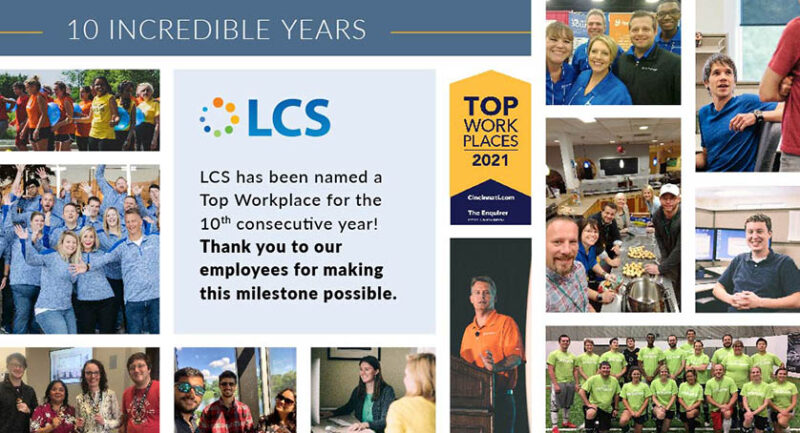 Company culture doesn't just happen. It flourishes under intention, respect, change, open communication, and giving people the opportunity to grow. Since LCS was founded in 1987, we've been meticulously building and honing a culture that makes people feel fulfilled.
Celebrating 10 Years as a Cincinnati Top Workplace
For the 10th consecutive year, LCS has earned the title of an Enquirer Media Top Workplace! This year's win felt especially significant. After working remotely, taking team-building activities virtual, and weathering the emotional tolls of COVID-19; a Cincinnati Top Workplace win reinforced something we already knew: our employees are our strongest asset—a fact we will never take for granted.
Energage identifies the area's Top Workplaces each year by going straight to the source: the employees. A survey that measures company details—including work-life balance, corporate leadership, company values, growth opportunities, benefits, and more—collects insights from thousands of people employed at businesses of all industries and sizes throughout the Cincinnati region. Results are aggregated and announced every June.
10 Reasons Why People Love Working at LCS
In the spirit of going straight to the source, we heard from 10 LCSers across several different departments about why they enjoy working here.
Here's what they had to say:
"Everyone at LCS has always been encouraging and supportive of any direction I have wanted to take with my professional training. LCS is a place where I see myself for years to come because there is so much to learn and experience. Individual growth and development is a vital part of life at LCS." – Prathima Cheeti, Quality Assurance Software Tester


"I will always remember the energy, confidence, and teamwork exhibited by everyone at LCS at the beginning of the COVID-19 pandemic in March 2020. While everything we were always sure of in our daily lives was being turned upside down, the transition to work-from-home was so well orchestrated, supported, and seamless, that work was actually one of the biggest comforts in my day." – Tanya Lowry, Customer Success Specialist


"As most of us at LCS know, the Rent Manager program is huge! So as a developer, I'd say my favorite thing about my role is being able to dig through the software and learn from some of the design choices that make Rent Manager work. It's really a unique opportunity developing within such a large infrastructure." – Dustin Seger, Software Developer – API Team


"Every day is an adventure in my role. Managing more than 50 team members, across six teams, working on four unique and dynamic products keeps me busy, engaged, and creative. – Brian Mueller, Director of Software Development


"I enjoy getting to be part of all departments' projects and day-to-day items. I also assist with the scheduling for our President and other staff members as needed. I have helped and filled in all different departments whenever I'm needed." – Ryan Abdon, Executive Administrative Assistant


"LCS has allowed me to use my skills and create new opportunities in my career development. LCS has exposed me to what being a leader and team member really means, and how I can be an asset to the company in the future." – Lavanda Wright, Product Support Specialist


"No two days are the same. From presenting on industry topics, to traveling to visit customers to attending tradeshows, each day is unique." – Mike Niebauer, Business Development Manager


"I've had the opportunity to be part of the ITG department almost since the beginning of my employment here. I have been able to help create new processes, transform the implementation experience, and build a solid team. In June of 2020, I was given that same opportunity with the Premium Support team. It has been extremely rewarding to invest in that team and continue to add value to our customers experience." – Julie Kelly, Customer Success Manager


"Each day is completely different, which is why I love it so much. I am in charge of planning and executing all of the internal events at LCS, I'm on the planning committee for the Rent Manager User Conference, and I run all the company websites to make sure everything is up-to-date." – Kelsie Foster, Projects & Events Coordinator


"While working at LCS over the last year, I've made a lot of really wonderful connections with my coworkers and gained confidence in my abilities as a writer as well as a content strategist." – Cheyenne Ward, Instructional Content Analyst
Even though LCS is more than 400-employees strong, we remain a tightknit crew. We're dedicated to innovation, collaboration, and pushing the boundaries of what's expected in the realm of technology Can you see yourself here? Take a look at our open positions and apply today!