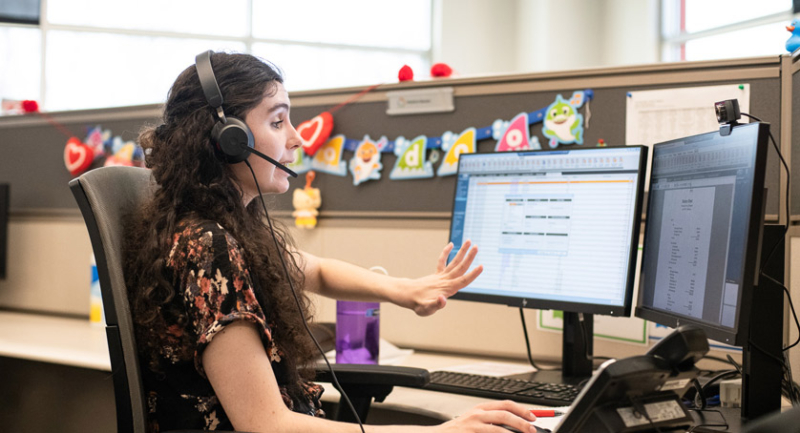 When asked to picture a sales department, many conjure images of a hyper-competitive arena where representatives vie for the title of top earner each month, looking at their fellow employees as rivals.
At LCS? That image couldn't be further from the truth.
"In some companies, you see sales teams that are cutthroat, but not here. Our sales team is genuinely helpful and supportive. Everyone wants to help each other reach their goals and see each other succeed, which is priceless to me."
Sarah Miller, Sales Assistant
With a host of products to position, including our award-winning property management software—Rent Manager—a day in the life of our sales representatives includes more collaboration and teamwork than most would expect. We touched base with members of this essential team, in a variety of roles, to peek behind the curtain and see how this hardworking group operates every day.
A Day in the Life of the LCS Sales Department
The department consists of Sales Representatives, Sales Assistants, Business Development Managers, and the Sales leadership team, who all work together to position LCS' products and services to customers. Many customers begin their journey with LCS via a discovery call led by one of our Sales Assistants, who identifies the caller's operational pain points and the ways our software or other products can help. From there, the prospect is connected to a Sales Representative to view a demo, and the representative can answer further questions and provide solutions that resolve the customer's needs.
With Rent Manager providing solutions to multiple property management vertical markets, our sales team must be well-informed on all of the product's capabilities.
"We don't work with any single market, so it's important that we know what each particular industry (commercial, multifamily, manufactured housing, single-family, short-term rentals, HOAs, etc.) may need and how Rent Manager can help. Whether that's helping an existing customer learn of best practices or customizing a demo for a prospect's unique needs, it's important that we stay up to date on current trends and functionality."
Camille Brigano, Sales Representative
With Rent Manager's extensive capabilities and resources, that can be a tall order! But that's where the collaborative nature of LCS' sales environment comes into play.
"We're a small team and a lot of us have worked together for years, so it's made us truly be able to rely on each other, whether we're out of the office and need someone to help with a customer/prospect, or just need another person's point of view or expertise."
Camille Brigano, Sales Representative
Responsibilities on the Road
"As Business Development Managers, we're each customer's LCS advocate and their national advocate through the many professional associations we support and actively participate in. We are the face of the company and need to ensure we represent everyone's tremendous efforts."
Mike Niebauer, Business Development Manager
Our sales-focused employees don't just connect with customers over the phone. They also travel all over the country to share how Rent Manager and LCS can enhance businesses' operations for real estate management companies of all sizes and specialties. Whether that's at tradeshows, industry conferences (like the RMUC), or even visiting customers' headquarters, Business Development Managers strive to cultivate relationships with existing accounts and prospects alike.
"[The most rewarding part of my job is] getting to meet our customers and learn about their business and how Rent Manager has helped in their success."
Heather Barrow, Business Development Manager (Multifamily Housing)
Building Relationships & Tackling Challenges
Each day puts our sales professionals' skills to the test. Throughout the customer life cycle, each of our representatives must think on their feet and communicate effectively about the benefits of LCS products. Many prospects and customers don't realize the depth of Rent Manager or our other software offerings, and the sales department is the first point of contact for these customers to discover just how much we can do for them.
"[It can be challenging] to convince growing companies to take the time to invest in themselves with training and better utilization within our product offerings. LCS offers many training tools, that in my opinion, are underutilized. [Using] Rent Manager will allow any company to scale during its growth."
Mike Niebauer, Business Development Manager
As the relationship between our customers and company grows, the sales team also fields many initial questions and requests about our products. Some of these questions they can answer, but in the case of issues or escalations, sometimes a supportive ear and setting up the solution with the right department is all the customer needs.
"One of the most challenging items I deal with in sales is an escalated issue from a customer that I directly won't be able to resolve but need […] to try and de-escalate it as much as possible. Then I draw attention to the issue with the appropriate departments and keep the customer updated on the status. Communication is key both internally and with the customer, so they know we are working on the issue, even if that communication is letting them know we don't have a resolution yet. They appreciate [that communication] more than silence."
John Hemelgarn, Sales Representative
The LCS Difference
"We truly want the best fit for our prospects and customers. That's why we take the time to go through detailed demos and questions/answers with our prospects, so that way when they come on board as a customer, they truly know what their experience will be like with Rent Manager and the rest of our teams."
Camille Brigano, Sales Representative
Being on the front lines of the LCS customer experience, the sales team shares a camaraderie and culture that can be a rarity in other companies' sales environments. It's this care for each other that translates into the care and attention to detail that customers and prospects receive with every interaction.
"[This is] easily my favorite job I've had, [and] I've worked 28 different jobs in [my career]. There really is a team feel to the sales department where many other similar positions, you might feel like you're competing with everybody else for sales, and there tends to be no trust between coworkers. Our managers are always open on how they can help us grow our sales and be successful."
John Hemelgarn, Sales Representative
Leadership and Coworkers Who Care
The caring attitude starts at the top, too. From every level of the organization, it's clear to our teams that LCS goes above and beyond for every customer and every employee.
"One of the other major things I was looking for was leadership with integrity and I have found that. When you worked for someone previously who showed you what that looks like, you can't settle for less. LCS has not disappointed me in this area—from my team leads, to managers, to directors, and the owner—I have found another company with integrity and I'm so thankful every day to be a part of this family.
If you are looking for a company that cares about its employees, likes to have fun at work, and where you have amazing coworkers, then this is a wonderful place to work!"
Sarah Miller, Sales Assistant
We couldn't have put it any better! If you have sales acumen and are looking for a breath of fresh air in your career, check out our current openings and apply today!