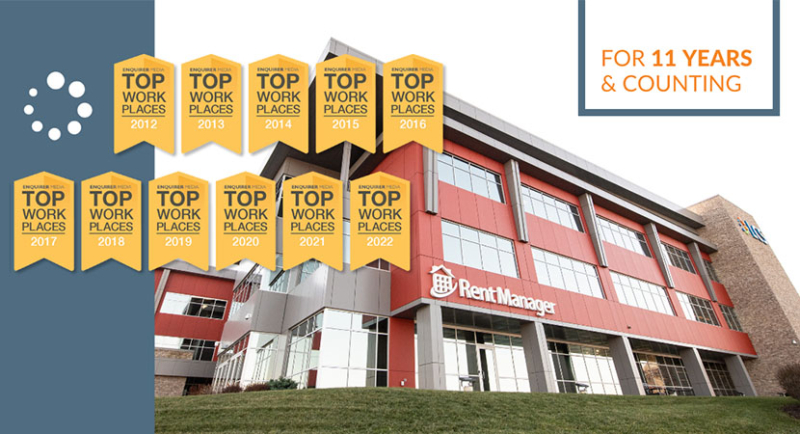 At LCS, we genuinely value our company culture; it's something we've meticulously nurtured and honed for years. For the eleventh consecutive year, LCS has been named one of Enquirer Media's Top Workplaces in Cincinnati for the eleventh year in a row. This incredible honor was awarded based on LCS employee surveys that reflected what staff here already knew—LCS values its people.
Beginning humbly in 1987, LCS President and CEO, Dave Hegemann developed and wrote the code for Rent Manager property management software. The program was created to help automate and alleviate his father's lengthy to-do list at their family's mixed-use rental property and was among the first of its kind in the industry. As the years went on, the software grew exponentially in its capabilities, as did the company itself. LCS and Rent Manager are now more than 350-employees strong. We remain a tightknit crew that's dedicated to innovation, collaboration, and pushing the boundaries of what's expected in the realm of property management. This commitment to excellence, culture, leadership, work/life balance, benefits and more, make it easy to love working at LCS.
Results are solely based on employee feedback
On behalf of Enquirer Media, Energage identifies the area's best places to work each year by going straight to the source: the employees. A survey that measures company details—including work-life balance, leadership, company values, growth opportunities, benefits, and more—collects insights from thousands of people employed at businesses of all industries and sizes throughout the Cincinnati region. Results are aggregated and announced every June. Achieving the title of a Cincinnati Top Workplace is a major recruiting tool for businesses in the area.
The LCS staff commended the company for its commitment to culture, positive leadership, and philosophy in the Energage questionnaire. Since employees first heard about the survey opportunity in 2012, LCS has applied for inclusion in the candidate group—and has earned the Top Cincinnati Workplace distinction—every single year.
LCS continues to grow
"We're so honored to be recognized as a top workplace for the 11th year in a row," said LCS Chief Operating Officer, Brittany Christerson. "Our employees continue to be LCS' strongest asset. We employ incredible people from all different backgrounds, career paths, and walks of life. Everyone is helpful and determined to do their best, and we try to invest that same level of care back into our employees."
LCS has enjoyed double-digit revenue growth for the last two decades—a statistic company leadership accounts to its flourishing employee base. With new products; software enhancements; and the Rent Manager User Conference in Orlando, Florida on the horizon; LCS is proving itself an unstoppable force in the technology industry.
Interested in joining the team? Check out our open positions and apply today!