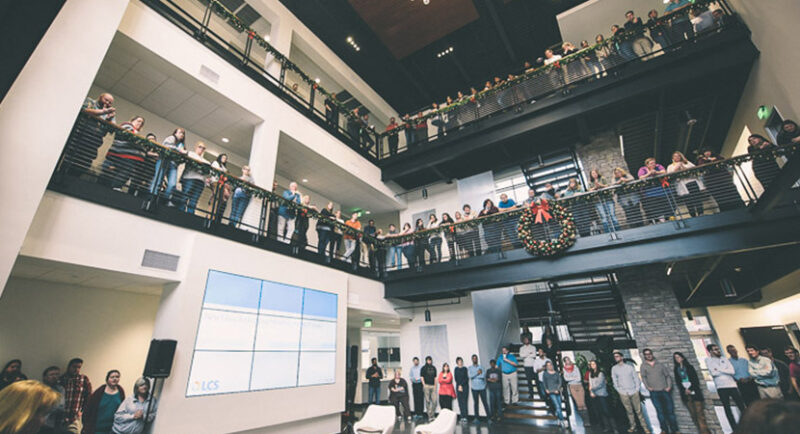 The nature of work, and what constitutes a workplace, were completely redefined in 2020. Despite the challenges of reimagining virtual team-building events and navigating unfamiliar work-from-home dynamics, LCS persevered. Through it all, we stayed committed to our mission of achieving Quality, Urgency, and Execution every day. We made continuous strides to improve our products, hired more amazing people, and quickly adapted to the new hybrid work model.
Our hard work has not gone unnoticed. Both LCS and Rent Manager have received incredible industry-wide recognition for our company culture, customer training program, college co-op initiatives, and more. Learn about our latest awards and accolades and what our team accomplished to achieve them.
Best Unique or Innovative Learning & Development Program
The Rent Manager Training team earned a bronze award from the Brandon Hall Group for their Virtual Classroom program. Customers are offered three comprehensive courses: Rent Manager Bootcamp, Fee-Based Management, and Scripting. Bootcamp is a crash course in Rent Manager. The six-hour online training session is conducted across three days by a certified Rent Manager expert. Learners get to know the basics of database setup, accounts receivable and payables, and the tenant lifecycle. Fee-Based Management covers setting up owner accounts, calculating management fees, and paying owners; while the Scripting course dives into Rent Manager's built-in script-writing tools, creating custom letters, and more.
Trainers have expanded the program with an automatic feedback mode that provides users with task scoring and detailed method explanations, they also have access to completed data that reveals where users are struggling and where they're thriving. The shift from manual to automated course grading completely revolutionized the program.
HousingWire Magazine's Tech 100 Award
Each year, the HousingWire team searches for the most innovative technology companies serving the mortgage and real estate industries. Rent Manager secured this award through our swift dedication to our customers during the height of the pandemic—ensuring our users had the necessary tools to operate remotely and switch to digital communications.
As the pandemic pressed on, the Rent Manager Conversion team made it their mission to offer free database conversions from Rent Manager Xi to Rent Manager 12—the most feature-rich and powerful version of the program. In all, our Conversion Specialists helped more than 460 customers convert to Rent Manager 12 in 2020. These new Rent Manager 12 users were able to access the benefits of the program's digital communication capabilities, such as mass emailing features, web chat, texting, and phone broadcasts sent directly from the software.
Enquirer Media's Top Workplace Award
Consumers are more selective than ever, and top talent is, too. At LCS, we know our employees are our principal asset, and in turn, we do our utmost treat them well. For the 10th consecutive year, LCS earned a Cincinnati Enquirer Top Workplace award for 2021!
Through anonymous survey responses, Energage identifies the area's Top Workplaces each year by going straight to the source: employees. A survey that measures company details—including work-life balance, corporate leadership, company values, growth opportunities, benefits, and more—collects insights from thousands of people employed at businesses of all industries and sizes throughout the Cincinnati region.
Ohio Business Magazine Best Workplaces
Ohio Best Workplaces measured how companies handled their COVID-19 response, giving-back initiatives, and general company practices.
At the start of the COVID-19 pandemic, LCS' executive and IT teams worked efficiently to move our entire workforce to operate remotely, nearly overnight. Quick decision making, VPN connections, and a dedicated staff made the transition smooth and kept the business running.
Despite the pandemic, LCS continued to participated in a wide variety of charity efforts—from "Adopt a Child" during the winter holidays to the Open Doors Giving Campaign–where LCS partnered with Tenant Turner to provide two deserving residents with $1,500 toward rent costs.
OCEA Distinguished Employer
The Ohio Cooperative Education Association (OCEA) recognizes the vital role of employers who provide employment and learning opportunities for co-op students.
Fully immersed in our company culture, LCS co-ops and interns are treated as the valuable team members they are—individually introduced and recognized before the entire company alongside all other newly hired employees. Students are empowered through the work they do and the solutions they create. Tasked with similar assignments as those performed by our full-time employees, co-ops and interns regularly have a hand in product enhancements, new feature and development testing, hardware and system updates, marketing campaigns, and more.
We're so grateful for these recognitions. They inspire us to never stop innovating, creating, and reinventing our processes to be better every day.