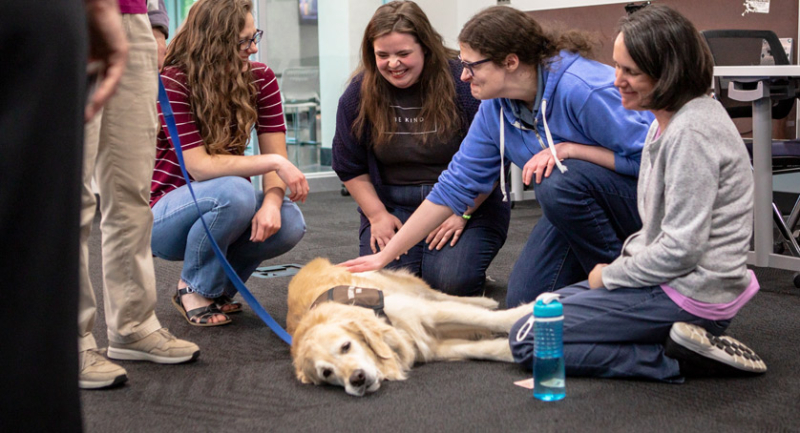 Summer is now in full swing, and another quarter of LCS social events has come and gone. It's a little hard to believe we're already almost through June—we've been so busy lately, and there's a whole lot more to come this year! While we have a minute to spare, here's a look back at the last three months of social events that got us involved at work. And stay tuned for a sneak peek of what's to come later this summer!
April
GCNKAA 5K 4 Rent
Each year, Rent Manager sponsors and participates in the Greater Cincinnati Northern Kentucky Apartment Association's 5K 4 Rent. This annual event raises funds for the organization's Rental Assistance Program, which helps families and individuals stay in their homes during times of hardship. The 5K is especially close to our hearts as we spend so much time working in the housing industry and often with the GCNKAA. LCS and Rent Manager are proud to sponsor this race for a cause, and we always love an excuse to get out in the fresh air while helping our community.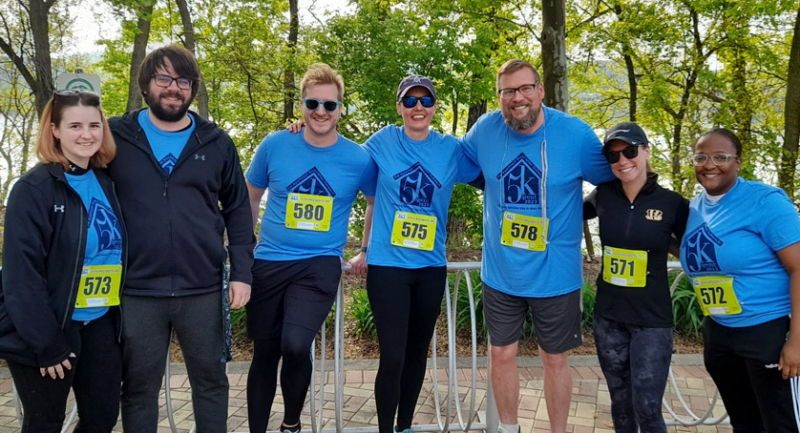 Brewhaus Bakery & Dog Bones Volunteer Event
We put our paws up for another good cause this spring! Brewhaus Bakery & Dog Bones is a non-profit dedicated to providing a fun, inclusive space for young adults with disabilities in the Greater Cincinnati area. Local school districts partner with Brewhaus to provide their students with vocational training and meaningful employment opportunities. The "Brew Crew" creates handcrafted oven-baked dog treats from grains sourced from local microbreweries. Our team volunteered at Brewhaus in a fun evening session of crafting dog treats, socializing with the Brew Crew, and helping this fantastic cause.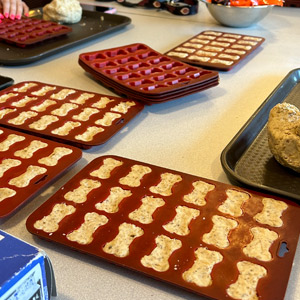 Switch Bowling Tournament
LCS struck up the competition in April with a friendly Nintendo Switch Bowling Tournament! 45 employees bowled their way through a challenging bracket-style competition during two days of fun. Only six came out on top, but it was a great way to blow off some steam in the office and have fun with coworkers.
May
Mental Health Awareness Month
For the entire month of May, employees participated in all kinds of different activities surrounding Mental Health Awareness Month. Each week, we hosted activities to focus our bodies and minds—including brain teaser puzzles, yoga, guided meditation, coloring pages, and so much more. We even got to step away from our desks and get some puppy love from therapy dogs provided by Pet Partners of Greater Cincinnati and Circle Tail, Inc.
Participation in each activity this month earned points on a bingo board and a chance to win a "Day in Cincinnati" gift basket. Mental Health Awareness Month was a huge hit! We all felt a little more refreshed and focused after dedicating some time to taking care of ourselves.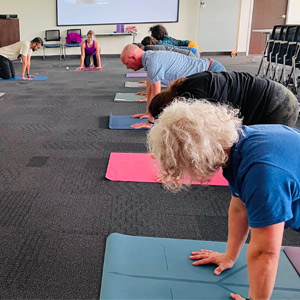 Memorial Day Cookout
As the weather got warmer, we couldn't resist the opportunity to celebrate Memorial Day weekend with fantastic food and some time outside on our patio. The cookout included firing up the grill with burgers and hot dogs, potato salad, and desserts while soaking up some sunshine and great conversation with our coworkers.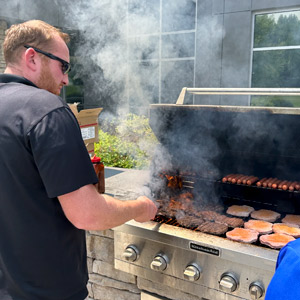 June
Spirit Week
Finally, this week is our highly anticipated LCS Spirit Week! In the lead-up to our annual LCS Olympics, we split our entire workforce into colorful Olympics teams and participate in a host of activities that bring the hype for the competition to come later in the summer. From dressing up for themed spirit days to hunting for tiny ducks all around the office, there are tons of ways our Olympics teams can earn points to get ahead of the competition and show their spirit. Teams can also participate in our July charity events for Olympics points as well, by donating school supplies through Operation Give Back, and participating in a neighborhood cleanup sponsored by Keep Cincinnati Beautiful. We anticipate the competition is going to be fierce this year—but don't just take our word for it! Check out the exciting announcement video that had us all raring to go!
More is Around the Corner
In addition to the LCS Olympics in August, we have a whole lot more social events in the works to keep our teams engaged throughout the summer and all year long. Stay tuned for even more exciting company news, and follow all the latest updates in real-time on our Facebook and Instagram.
Want to join in on the LCS fun and have a job where you can play as hard as you work? Check out our current openings and apply to join our team today!