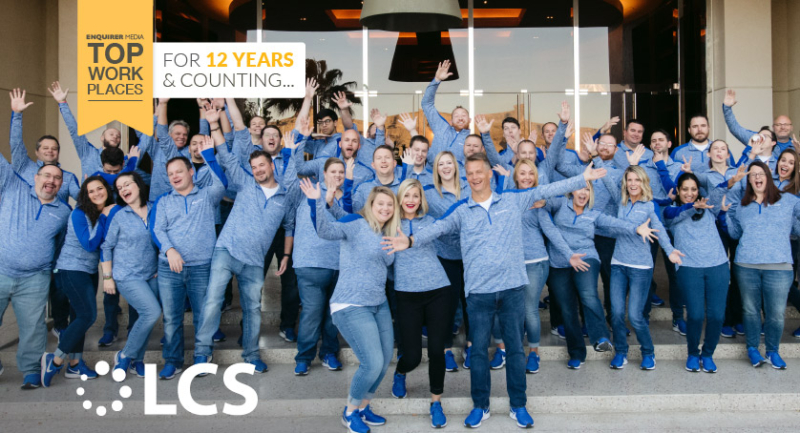 At LCS, we take pride in fostering an engaging and inviting company culture. From planning fun company-wide events to making sure each employee's contributions are recognized, we put a tremendous amount of effort into creating an environment that our employees love to work in every day. This dedication is why LCS has earned the designation of one of Enquirer Media's Top Workplaces in Cincinnati for the 12th consecutive year.
We are honored to receive this prestigious award, especially because of its criteria. In partnership with Enquirer Media, the national organization Energage sends out a 24-question survey to employees to determine whether their company culture is worthy of recognition. The responses from that survey merit the Cincinnati Top Workplace designation, and we couldn't be more humbled by the overwhelming response we receive from our employees year after year.
In today's competitive job market, companies must focus on recruiting and retaining top talent. Creating a welcoming and engaging company culture is a large component of employee retention and satisfaction, but what attributes make up a top workplace? If you're looking to overhaul or improve your employee experience, check out the list below as to what we think are the most important elements to create an award-winning company.
Cultivate a Connected Community
Even in a remote work setting, building relationships with coworkers and leadership is important because it allows employees to feel connected and have a sense of purpose in their role. There are many ways to develop a sense of community in the workplace, but at LCS we have two core tenants that guide us:
Team Building is Key
No matter the size of the company, investing in team-building activities that engage employees across departments will help foster a sense of community. Even simple activities like providing food trucks or encouraging your team to send cards to their coworkers can help bring people together who might not otherwise interact during the day. Of course, we're a fan of the bigger activities too—the LCS Olympics is just around the corner, after all!
Create a Sense of Belonging & Purpose
Many workers, especially the younger cohort of millennials and Gen Z, want to feel like their workplace has a purpose, and that they have a place within an organization. Working to recognize contributions and being transparent about your company's values will go a long way in creating an award-winning company culture. LCS often participates in charity initiatives throughout our community, and we value recognizing our coworkers for a job well done. This way, our team feels like a part of something bigger, both within the company and in our community.
Foster Growth Opportunities
A connected atmosphere is only one part of the top workplace puzzle—employees want to feel as if they have a future in their organization and that their work is valued. At LCS, nearly a third of our workforce has been with the company for more than 6 years, and each employee has ample opportunity to build their career within our organization. Some of those opportunities include:
Investing in Professional Development
No matter what skills a new employee brings to the table, there is always room for growth and improvement. Younger employees especially crave mentorship and opportunities to grow and learn. We have four full-time Professional Development Coaches who are dedicated to helping each employee achieve their fullest career potential. These coaches not only oversee the first year of an employee's development, but are also a resource throughout their tenure. They provide employees with training opportunities and help craft professional development plans that potentially involve expanded roles within the organization. Taking the time to make sure that every employee has the resources and opportunities they need to advance within the company helps improve retention and contributes to a top workplace designation.
Providing Continued Training
We offer a cross-training program, where employees can learn the duties and responsibilities of other departments—creating a full understanding of each role at LCS and how that contributes to a successful business. Outside of internal training opportunities, investing in seminars, conferences, and other skill-building endeavors can turn a good employee into a great one. LCS employees branch out to attend various training forums throughout the year, bringing back new perspectives and expertise that they use to improve our products and services.
Show Employees You Care
Finally, employees at a top workplace want to feel like they matter. Recognizing their achievements is one way to do this, but recognizing employees as people first and foremost leads to greater employee satisfaction and higher retention rates. The best part is that it's not difficult to show your employees you care about them—two simple principles guide our way at LCS:
Offer Competitive Benefits & Compensation
In today's job market, workers aren't afraid to job-hop if they feel they aren't being compensated fairly. What's more, a 2021 survey by Gartner revealed that only 18% of workers feel they work in a high fairness environment. Offering fair and competitive compensation and excellent benefits is an easy way to attract and retain talent and make them feel valued. Help your employees plan for retirement with 401(k) matching, and offer competitive healthcare, PTO, and parental leave to lock down a top workplace designation for years to come.
Create a Positive Environment
Even if compensation and benefits are satisfactory, employees don't want to come to work if the environment is poor. Mental health problems and burnout are on the rise in workers. And if management or coworkers are toxic, it can lead to a worse environment for even your best employees. Take the time to create spaces and opportunities for employees to take a break and recharge. We recently hosted Mental Health Awareness Month to remind employees to prioritize their physical and mental health, even in the office. Even something as simple as opening the door to conversations about mental health and burnout can help improve the work environment for your employees.
Here's to 12 More Years
LCS is incredibly proud to have earned another year of the Top Workplace designation in Cincinnati. Our leadership works hard to create a culture that our employees love—one in which they feel valued and where they enjoy coming to work every day. We continue to focus our efforts on improving and maintaining our company culture, and we hope that our team knows just how much we appreciate their determination and dedication!
If you're looking to join a top workplace where you can flourish in your career, look no further than LCS. Check out our current openings today and apply!