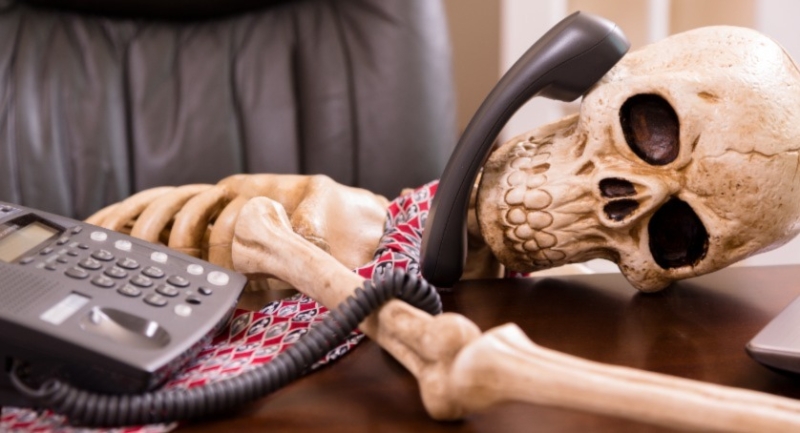 We ain't afraid of no phones!
As we near spooky season, you might be noticing some classic horror movie tropes starting to leak into your work life. After all, what's scarier than endlessly ringing phones, being isolated from everyone without access to your messages, or worst of all, ghosting your prospects and clients because you're unable to manage your current phone system? When it comes to streamlining how you track and manage your phone records, our industry-leading Net Dial Tone is the perfect ghost-busting tool.
Net Dial Tone (NDT) is LCS' hosted VoIP system that provides full-service, business class phone solutions for offices of all kinds. Our innovative features such as Auto Attendant, Voicemail-to-Email, and our exclusive Online Portal make it easy to streamline your business communications.
Here's a detailed look at some of the key features that make NDT the "big yes" for your business.
Easy-to-Use Functions
Never miss important business communications, even when you're having a monster of a morning and can't answer the phone. Set up extensions, manage voicemail, and conduct conference calls easily with these popular functions:
Auto Attendant – Automatically receive calls and direct them to the appropriate extension. Set up custom greetings based on the time of day, or set call waiting, call transfer, or call forwarding with ease.
Call Recording – You can record any call to or from your business to listen to later. Monitor calls for quality assurance, training purposes, or to confirm conversation details.
Voicemail-to-email – When you receive a voicemail, NDT automatically sends you an email with the message as a .wav attachment that you can save, archive, or listen to from anywhere at any time.
Fax-to-email – No fax machine? No problem!  Faxes received can be sent immediately to your email as an attachment.
Customer Portal
NDT's online customer portal allows you to manage a variety of services, all from one convenient dashboard. You can monitor your phone system, view call recordings, run call reports, manage extensions, and more. It's an easy way to make your business phone system work for you, instead of being haunted by complicated technology. You can even schedule your open hours, so customers calling after-hours will hear a custom message letting them know when someone will be available to take their call.
Easy-to-Use Phone Models
Your phone system needs are unique. Choose from a variety of industry leading phone models designed with a suite of features to meet your customized needs.
The Poly® VVX series contains two, four, and six-line desktop phones with classic, raised buttons and simple navigation systems.
The Poly® CCX series consists of powerful, android-based desktop phones with color touch screens and a wide array of options and performance.
The Poly® Rove Wireless IP features cordless handsets that connect to a base system for a flexible, mobile solution.
The Poly® Trio 8800 is the modern conference call solution with powerful microphones with a 20-foot range that will pick up every word with crystal clear quality.
rmVoIP Integration
Whether it's ghost hunting or connecting business systems, finding ways to work together is key for success. Save time and avoid the stress of duplicating information by utilizing NDT's direct integration with LCS' property management software, Rent Manager—we call it rmVoIP. Easily connect your management company or leasing office phone system directly to your Rent Manager database. When prospects, tenants, or vendors call in, you can see their profile information, unpaid balance, or service issues within the Rent Manager call window. You can also create service issues, add history/notes to the caller's profile, or create a new profile from the call screen. The productivity possibilities are endless!
Don't Let Your Outdated Phone System Haunt You!
Whether you already utilize Rent Manager, or you're looking for a standalone phone system with excellent support and an easy-to-use interface, NDT has the business solutions that will make your everyday communication a little less scary. To learn more about NDT, visit our website or get in touch with us today.