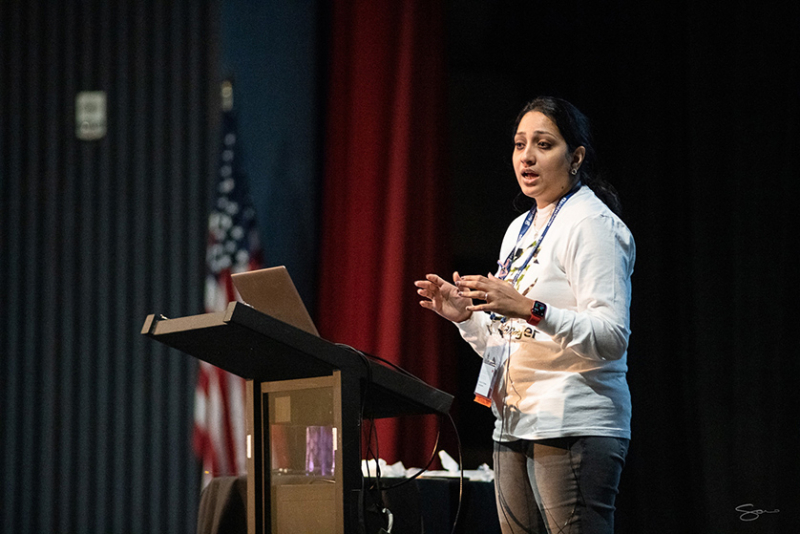 At LCS, we have always done things our way, and to great success (see our 11 Top Workplace Awards). Maybe that's why over half of our executive leadership team is comprised of women, exceeding the norm of just 35% of the general workforce and 10% of tech leadership positions. We talked to some of the women in leadership who build and maintain our award-winning culture and software.

Brittany Christerson – Chief Operating Officer

When we think of overachievers who seem to squeeze extra hours into each day, we think of Brittany. Over her 13+ years at LCS, she has come to oversee the Sales, Marketing, Business Development, Support, Channel Partner, and Tradeshow departments as our Chief Operating Officer (COO). With her integral involvement in our day-to-day operations, many would be surprised to learn that Brittany's career almost took a very different trajectory.

Shortly after joining LCS as a Sales Representative, Brittany went back to school to complete her Master's in Early Childhood Education in pursuit of a teaching career. Luckily for us, CEO Dave Hegemann convinced her to use her planning and communication skills to take on a senior role at LCS. If you talk to Brittany, her proudest accomplishment is coordinating the yearly Rent Manager User Conference (RMUC). This massive undertaking sees over 1,000 industry experts converge at resorts across the U.S. for three days of inspiring presentations, tailored training sessions, and large-scale networking events. To learn more about Brittany's LCS journey, click here.
Saritha Kota – Director of Software Development, Express

It's one thing to say you understand the challenges facing a particular role—it's another thing to have experienced it. In her 12 years at LCS, Saritha has held several different roles, including Software Developer, Software Developer II, Team Lead, Development Manager, and Senior Development Manager, before moving into her current role as a Director of Software Development. Saritha is responsible for providing the roadmap for Rent Manager Express, a web-based version of our flagship product, Rent Manager property management software. To ensure this software continues to perform and evolve to meet our customers' needs, Saritha oversees both the developers who write the codes to create features and the Quality Assurance team that tests those new features.

In her leadership role, Saritha provides technical mentorship and encourages her teams to ask questions, focus on producing quality and thorough work, and to see each project as an opportunity to learn and grow. Perhaps it's that mentality that has inspired several of her team members to advance into leadership roles this past year!
Rachel Huizenga – Director of Human Resources

As the Director of the LCS Human Resources department, Rachel helps set the tone for the company. And seeing as LCS has been named a Top Workplace for the past 11 years, she's doing a great job! In her seven-plus years with LCS, Rachel has hired over 400 people. One unique thing about LCS that Rachel has helped implement is our onboarding and support program. In addition to an immersive onboarding experience, every employee at LCS is assigned a Professional Development Coach. These coaches act as mentors, helping employees set and achieve personalized goals. This kind of individualized employee support draws in job applicants and contributes to high retention figures. Learn more about Rachel here.

"A company is made up of people and we have some of the best! I'm honored that I have the opportunity to work alongside such talented and caring professionals each day."

-Rachel Huizenga
Lori Weaver – Director of Business Analysis and Release Management

With a record tenure of 23 years, Lori is the ultimate LCS pro. In that time, she has held many different roles, including Customer/Software Support Technician, Customer Relationship Manager, Implementation and Training Specialist, Manager of Implementation and Training, Manager of Client Services, Director of Client Services, and now Director of Business Analysis and Release Management. In her current role, Lori oversees the Business Analysis and Case Analysis teams. Under her leadership, this department collaborates with other teams to improve Rent Manager and other LCS products. Given the diversity of services we offer, that is no small task! She is also responsible for the timely rollout of product releases, which can vary from small tweaks to overarching software changes.
Julie Kuhn – Director of Professional Services

A 10-year veteran of LCS, Julie started as Professional Services Project Coordinator before moving into the Professional Services Team Lead role and then on to Professional Services Manager. Five years ago, she was promoted to the Director of Professional Services, where she oversees the API Services and Custom Development teams, the Professional Services Web team, the Data Management team, the Report and Scripting teams, and the RM12 Conversion team.

Under Julie's direction, these teams work to extend the functionality of our flagship product, Rent Manager, helping customers enhance their daily operations and customize the program to meet their needs. This includes designing and developing beautiful custom websites, building out custom reports, or creating customized solutions that integrate with Rent Manger's API—the list goes on and on!! If that weren't enough, Julie also assists with interviewing future Support Representatives, helps manage company contracts, and leads some of our larger cross-departmental initiatives. With so many different responsibilities, it's a good thing Julie enjoys variety and welcomes the new challenges of each day.

While each of the women on our executive leadership team brings different backgrounds and skills to LCS, they share some common traits—including a passion for their work, a drive to identify and solve problems, and a desire to help others succeed. If you're interested in working with any of these women, check out our list of current position openings here.