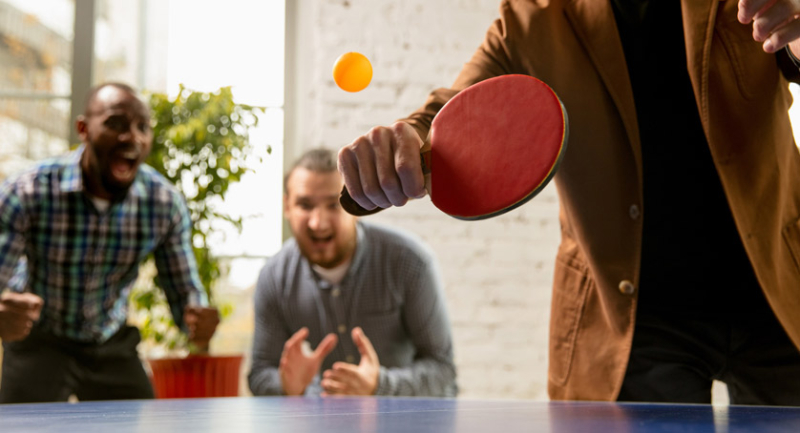 Summer is just around the corner! While the sunshine is sorely needed after a long winter, with warmer weather comes an uptick in out-of-office memos, or even the dreaded "summer productivity slump." This time of year always brings about excitement and nostalgia for summer vacations, which can mean many companies struggling to keep up an already historically low employee engagement metric. Fortunately, summertime does offer many opportunities for employers to implement warm-weather employee engagement ideas.
Team-building activities and other incentives that improve company culture can offer a huge return on investment in the form of greater employee retention and attracting top talent. And in a post-COVID world, many employees are craving workplace connection. Gen Z workers are especially feeling the lack of in-person team-building activities, with many of the youngest generation having entered the workforce in a remote or hybrid setting.
So, what kinds of employee engagement activities can employers offer their teams in the summer? We've rounded up the top 20 employee engagement ideas in four different categories to keep your team connected all summer long.
Get Outside
It's no secret that spending time in the fresh air can have positive benefits, including improved mental health at work. Encourage your employees to get outdoors with the following activities that will provide some fun in the sun—and don't forget the sunscreen!
Take a Walk with your Four-Legged Friends
If there's a dog park or a walking trail near the office, grab your teammates and meet up for a quick stroll with your canine companions.
Hit the Nature Trail
If a dog walk isn't up your alley, you can still encourage employees to get outside with a nature walk. Go to a nearby park at lunch or meet up for a hike on a Saturday morning and enjoy the peace and serenity of the outdoors.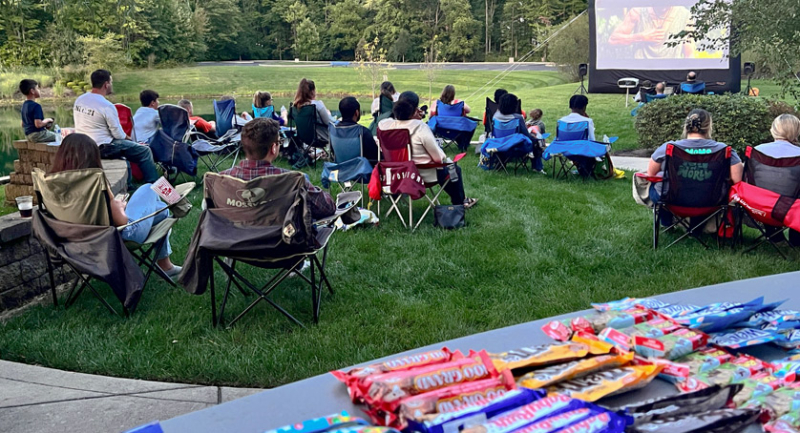 Have an Outdoor Movie Night
Fire up a projector and bring the popcorn and lawn chairs to cultivate a drive-in movie feel with your team. Superhero movies are always a winning choice in our opinion!
Have a Picnic or Cookout
Who doesn't love a summer grill-out? If you've got the space outside the office, set up a grill and take lunch outside. You can even make it a potluck and have your team bring their own sides or desserts.
Bring in Food Trucks
Spread the love to other local companies and book a food truck for your team's lunch! Food trucks have exploded in popularity recently, so you'll have plenty of local options to cater to a variety of palettes.
Play Some Games
A little friendly competition and teamwork can boost morale and help employees foster friendships, which can boost productivity and involvement with the company. Here are a few employee engagement ideas that are all about having fun!
Conduct a Scavenger Hunt
With a little creativity, you can probably think of plenty of places to hide things in plain sight in the office. Have employees get up from their desks to go on a scavenger hunt—for prizes or for bragging rights!
Participate in Recreational Sports Teams
Late spring and early summer are the perfect times to have your employees sign up for local recreational sports teams. Baseball or softball are popular and tend to get a lot of interest. Some other ideas include bowling, tennis, or frisbee golf!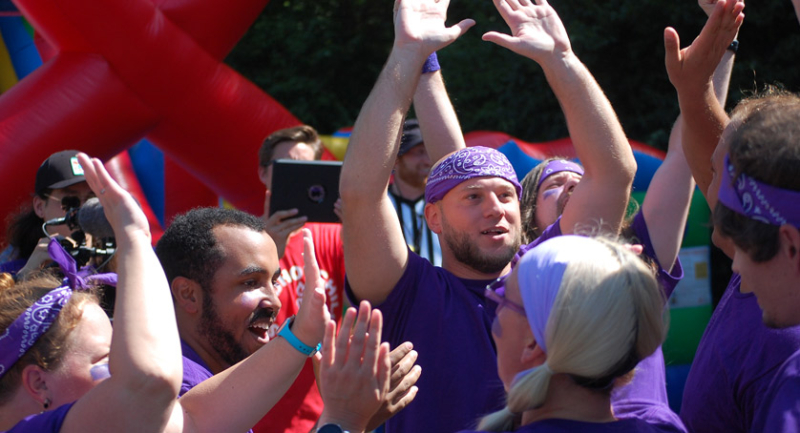 Host a Company Olympics!
We're no stranger to hosting a company Olympics—this is hands down our favorite time of year! Whether you have 14 employees or 400, you can get creative and have your team compete in fun events that will be the subject of water cooler talks for months to come.
Hold a Contest
If you have some creative or competitive employees, holding a contest is a great way to get everyone involved. Host a cook-off or a video game tournament during lunch and see who walks away with first place.
Go on a Paintball or Laser Tag Outing
Team bonding doesn't just have to take place during work hours. Invite your team to play paintball or hit up the laser tag arena after closing time.
Go Out on The Town
Your city likely has plenty of things to do outside the office. Get your team out of their cubicles and encourage participation in these local employee engagement activities.
Get Drinks for Cocktail Hour
When Friday afternoon rolls around, it's time to log off and grab a drink with your coworkers. Host a get-together at a local bar or restaurant to encourage some after-hours connections after a long week.
Take a Museum Trip
The museum offers a fun, educational opportunity that many people often don't think about. It can even be an opportunity for employees with kids to bring the whole family out for a fun weekend activity with their colleagues.
Go to the Amusement Park
For a more stimulating company outing, invite your thrill-seeking employees to test their might on roller coasters or water slides at a local amusement park. Some even offer company discounts for multiple tickets, or you can rent the whole park for your employees and their families!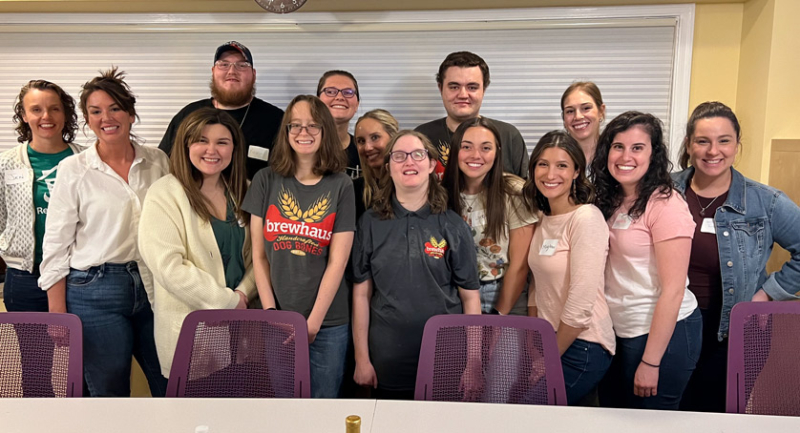 Encourage Volunteer Opportunities
Give back to your local community with volunteering events. If your business consistently contributes to charitable causes, employees are more likely to feel a connection with your core values. This can improve employee loyalty and engagement, so don't be afraid to give back!
Participate in an Escape Room Challenge
Escape rooms are a great exercise in employee collaboration. They encourage using problem solving skills and teamwork to achieve a common goal. Plus, they're fun! Have your employees hit up a local escape room challenge and see which team can break out with the fastest time.
Virtual Employee Engagement Ideas
If your company operates remote or hybrid, you don't have to miss out on all the fun! There are plenty of ways you can engage your team virtually to help foster connection and communication, even on opposite ends of the country (or world)!
Host a Virtual Happy Hour
Fire up that Zoom call and pour yourself a glass of your favorite beverage. Even without a physical location, your employees can still find camaraderie in a virtual happy hour after everyone logs off for the day.
Hold a Virtual Trivia Tournament
With a myriad of virtual tools at companies' disposal, it's never been easier to have a little fun over Teams or Zoom. Divide your employees into teams and host a trivia game! Music, movies, history, pop culture—there are trivia topics that everyone can get invested in.
Create a Virtual Murder Mystery Party
Whodunit? Put a cybernetic twist on a classic party game and hold a virtual murder mystery party! You can create a DIY version or book a virtual cast of actors to facilitate the event. Either way, it's sure to be a hit with your remote team!
Conduct Virtual Challenges
Classic games like Jeopardy or Family Feud can bring out the competitive side of your employees. Luckily, there are many virtual options that ensure that anyone can join. You can even add prizes as an extra incentive to participate.
Host Virtual TED Talks
Public speaking can be frightening. But giving a presentation on a topic you're interested in can be a fun way to break the ice with virtual coworkers. For new teams especially, having your employees give quick 5-minute presentations on any topic of their choice, TED Talk-style, can be a fun way to get to know one another.
Let the Employee Engagement Activities Commence
At LCS, we know a thing or two about engaging employees. With a whopping 31 internal events in 2022 (and a whole lot more on the way for 2023,) we love to have fun with our coworkers each and every day. If you'd like to join a team where fun at work is nearly a requirement, check out our open positions and apply today!