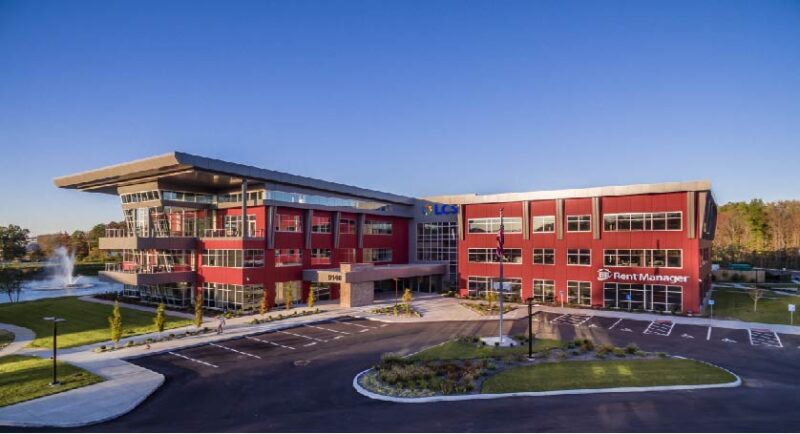 On average, employees spend more time at work than with their families. So, if work is your home away from home, then where you work likely factors into how you work. Recognizing how much time our employees spend in the office, the LCS campus was designed to be a modern, high-tech space that inspires productivity and creativity.
As a company, we strive to design, develop, and support innovative technologies. As soon as you step through the doors at our Waterstone Boulevard headquarters, you can feel that creative energy. From bright accent walls and glass to open-concept collaborative floor plans, LCS' headquarters delivers an atmosphere of ideation and teamwork.
We understand that sometimes the best ideas are inspired by getting away from our desks. There are plenty of spaces where employees can step back from the bustle of the workday and breathe. Team members can:
Take a walk on one of the scenic trails surrounding our building.
Stretch out in a huddle room.
Jog their memories in the fitness area.
Play games with their teammates in our game room.
Enjoy lunch in our café or outdoor patio.
For an in-depth view of our office space, take a virtual tour:
Like many employers in this post-pandemic era, LCS has further expanded its vision for where collaboration and innovation can take place by offering flexible work schedule options. Team members can choose to be fully on-site, or elect a hybrid office/home arrangement that suits their personal needs as well as their professional goals.
"Flexibility is key to reimagining work and keeping employees on board after the pandemic."

Adam Blenford, Bloomberg
As the LCS family continues to grow and evolve, we're delighted to welcome new faces to our unique corporate home and share our work-hard, play-hard way of life. Are you ready to join us? Visit LCS.com/Careers to find your fit!
Written By: Skyler Lance