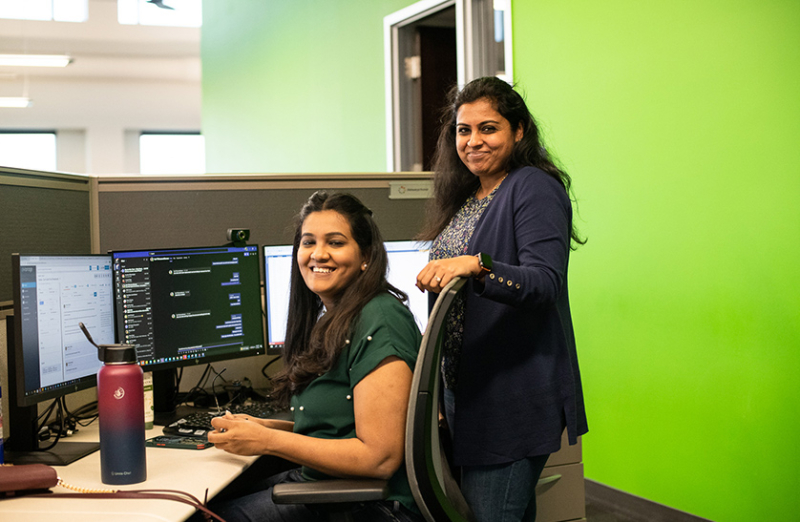 As a provider of business-enhancing technologies, software development is the backbone of our business. From creating the code to fixing bugs, our software developers work on cutting-edge projects that directly impact our customers day-to-day operations—including an array of desktop, web, and mobile solutions. We spent some time in this fast-paced department this week to learn what it is really like to work as a software developer for LCS.
A Typical Day
After grabbing a morning coffee from one of the coffee stations in our office, the day starts with a review of current projects before outlining the day's work. Due to the volume of tasks and personnel represented in each development team, it's imperative everyone remains in the loop. So, every morning, each team gathers to provide status updates, share hurdles, and brainstorm solutions. This not only ensures everyone has the same expectations for projects, but provides a key opportunity to share solutions, catch up, and celebrate recent wins.
Problem-solvers by nature, our development teams juggle providing industry-leading work and the pace of a demanding schedule. To help alleviate the stress that can come from producing top-notch code on tight deadlines, open communication between peers, our Quality Assurance (QA) personnel, and management is facilitated with semi-regular status update meetings and review sessions. This can include code review meetings, where developers show off their work and ask for advice on projects. Our collaborative environment encourages developers to share tricks of trade and useful hacks not only during these meetings, but whenever they are approached for help.
The rest of the day is determined by each development team. The vast nature of the products LCS offers means that our developers may work in many different parts of our software code. Several developers work on our award-winning property management software, Rent Manager, which is constantly being updated to lead industry standards. Some implement QA feedback or dive into feature requests. Others are tasked with writing code for our mobile and desktop customer applications. And certain teams even find themselves playing detective by recreating and resolving software bugs.
We ask a lot of our software developers. The scale and specificity of our software needs can be challenging. But that comes with the opportunity to work on a variety of projects and hone skills in a supportive environment. Once a month, updates for our flagship software are pushed out, which allows our teams to witness how their bug fixes or new feature rollouts impact our customers.
Our software development teams are not without their fun. Multiple times a month, LCS hosts company-wide events during the workday that give employees a chance to mingle with outside departments, change up their everyday routine, and have fun! Ranging from trivia to cook-offs, these events are open to and attended by members of each department. Our company game room, stocked with video games, ping-pong, and more, is also frequented by many employees over lunch—or whenever you need to blow off some steam.
Coding Is in Our DNA
It can be frustrating working for managers who may not understand—or care to understand—the scope and impact of your work. LCS is unique in that our company was founded by a software developer. You could say that software development is in our DNA. Our company leadership, from the CEO down through our team leads, is full of skilled programmers who use industry best practices to create innovative, quality products. Perhaps because of this connection, LCS leadership is always willing to listen and work with employees on new suggestions and ideas. From day one, we have understood the importance of good programming and have done everything we can to attract and retain the best development talent. This includes creating a pathway for software developers to continue to grow and learn.
Room to Grow
We want our employees to succeed, and we strive to give them many opportunities to do so. Starting with our co-op program, we invite numerous college students to join us for a semester or two every year to be part of our team. This hands-on internship allows them to really experience a career as a software developer, where they attend meetings and complete projects alongside our full-time employees. We are always excited to welcome back co-ops for a second or even third semester and have hired several to join us as a full-time staff member upon graduation.
Every employee is assigned a professional development coach who meets with employees throughout their career. Their goal is to support our employees' goals—whether that means helping them get the right equipment to expand their skillset, coordinating job shadowing opportunities, or connecting them to other employees who can provided role-specific guidance. In addition to our coaches, LCS provides several free training resources, including our training program, Rent Manager University, to help developers practice and master skills. Developers who have mastered the basics can grow into a Software Developer II role, and even go on to pursue a third-tier position.
Additionally, all employees are encouraged to perfect their presentation skills with a speaking role at our annual Rent Manager User Conference. Several of our developers routinely attend this award-winning event to share updates about recently-released features, speak on industry trends, and work directly with the customers we support. Outside of what LCS offers, we also have partnered with the University of Cincinnati to offer discounts on advanced educational classes, certificates, and degrees. LCS is truly committed to growing with our developers, from entry-level positions to senior management roles, and everything in between.
Do You Have What It Takes to Hack it at LCS?
Our software developers are a valued, vital part of our company. With so many different projects, pathways for continued learning, and positions available, LCS is the place to be. If you are interested in joining our team, check out our openings!