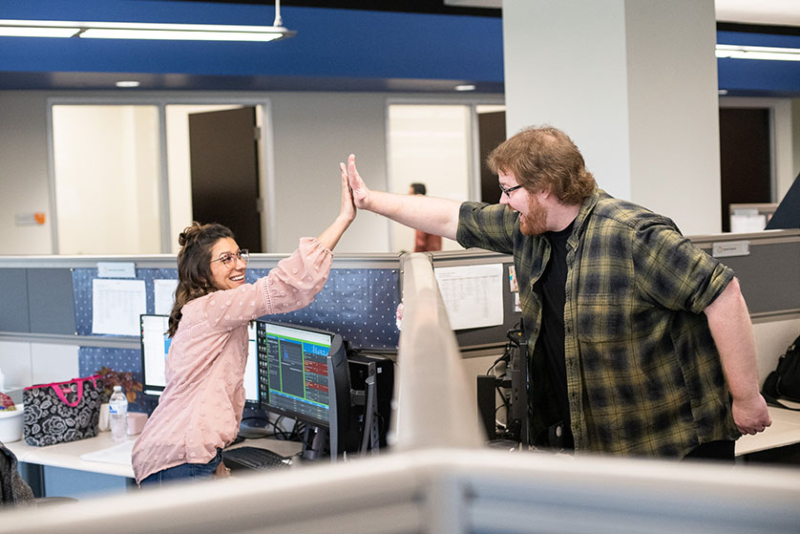 We're one month into 2023… how are your New Year's resolutions holding up? Whether you're looking for a new job or to get a little healthier, we could all use some more time in our day. Increasing our productivity is an easy way to get more done in less time. But finding ways to improve your efficiency is easier said than done (just like a lot of our New Year's resolutions!). If you are looking for some extra motivation to keep (or rededicate yourself to) your promises, here are our top five ways to stay productive at work in 2023.
Incorporate Healthy Habits into your Everyday Life
Staying productive can start with a healthy lifestyle. The beginning of a new year is the perfect time to ensure you're taking care of your physical and mental health. The CDC recommends that adults receive 150 minutes of physical activity per week. While that number can seem daunting, taking small breaks throughout your workday for a quick walk will have you meeting, if not beating, your step count in no time. Plus, a short walk away from your desk might be the best solution if you find yourself stuck on a project. It sounds counter-productive, but taking breaks can actually result in a more efficient workday. Stepping away from the stress and onslaught of emails gives your mind a chance to regroup and recharge. This 'down' time can lead to breakthroughs that propel you further than if you just attempted to push through a mental block. Breaks are a great time to refill your water bottle, stretch your legs, and check in with yourself on your dedication to healthy habits.
Finally, getting enough rest is critical to ensure you have enough strength and focus to make it through your daily to-do list. We all know eight hours of sleep are what we should get every night when we hit the pillow. But work stress, social obligations, hobbies, and even household chores can cut into our sleep time. And rest isn't just good for your physical health—it plays a key role in your ability to be productive. Getting enough sleep has been shown to enhance problem-solving skills, memory, concentration, and other key brain functions required for your day-to-day work. It's worth keeping in mind all the benefits a restful night provides when you are tempted to spend a few extra minutes scrolling before bed.
Tune into Productivity to Tune out Distractions
When it comes to background noise, everyone has their preferences. While some people need to work in silence, others may need a little auditory stimulation to focus. The amount of people listening to something while they work—music, podcasts, radio, etc. has increased since the COVID-19 pandemic. If you are musically inclined, check out this list of tracks shown to dramatically impact productivity. If podcasts are more your speed, we've compiled a list of some of the best shows to listen to as you jumpstart your year. It doesn't matter what you are listening to if it helps you stay productive at work.


Get Organized
If you are constantly juggling multiple tasks and due dates, then you know how dangerous it can be to clown around. One dropped ball (or missed deadline) can derail your whole day. Writing out and prioritizing your tasks list provides a clear road map for what projects need to be completed and in what order. Even when your schedule is limited, taking a few moments to write out a to-do list saves you time in the long run. A multitude of digital tools exist to help you manage and track your priorities, including Asana and ClickUp. Or you can go old school and add meetings, deadlines, and other important reminders to a physical planner.
Organization also extends beyond task planning. Decluttering your physical and digital spaces keeps you in the best headspace to receive and then act on information. Clear your desk of non-essential items so important papers and printouts don't get lost. On the digital side, keep your files organized and your inbox clear so you can easily find and respond to new queries. And if one of your resolutions is to work smarter and not harder, you can check out digital ticketing tools like qManage, which take care of some of the heavy lifting for your workforce when it comes to organizing and responding to requests.
When in Doubt, Stay Positive
Reframing your mindset to look for the sunny side of life can affect your performance when things aren't, well, so sunny. Individuals who practice optimism are shown to be better equipped to cope with stressful situations. Adopting a positive mindset doesn't require one big shift—small steps like showing your gratitude at work or practicing mindfulness are simple ways to alter your attitude any time of the day. Another easy way to incorporate a positive outlook is to smile more often. Smiling has been proven to lower both your heart rate and blood pressure, even in stressful situations. Try giving a grin every once in a while and see how it affects your day.
What Steps Can You Take to Stay Productive at Work?
Everyone has 24 hours in a day, but how you use those hours are unique. As we begin 2023, now is the perfect time to see how small changes can help you stay productive at work and give you the time and energy to focus on the things that matter most to you.