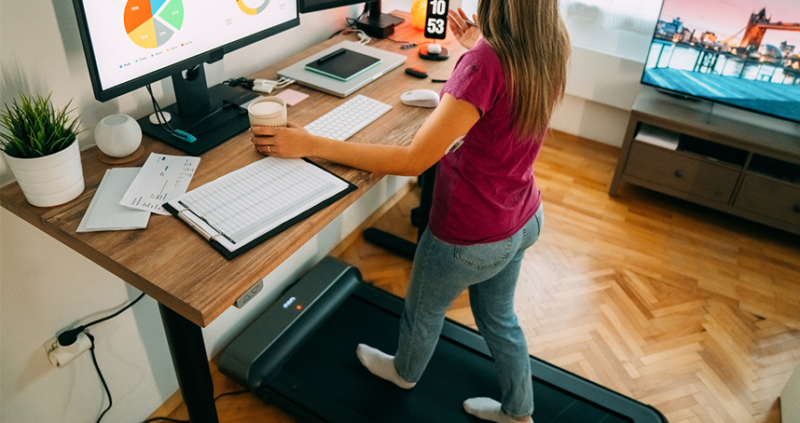 Physical inactivity is an epidemic in the United States. A mere 28% of American adults currently meet the physical activity guidelines set by the Centers for Disease Control and Prevention. This low statistic is startling, but not at all surprising, considering just how many hours a day Americans spend at work or doing other sedentary activities. We all know we should be moving more, but when your workday schedule is packed, how do you squeeze in physical activity in the workplace? Is it that beneficial to cram a workout into an already busy day?
Whether you work in an office or remotely, chances are you spend a lot of time sitting. Most office workers, on average, spend between four and nine hours a day sitting down. All that sitting can not only wreak havoc on your physical health, but can also decrease your executive function, memory, and concentration. This double-whammy can hurt your overall health and work performance, making you less likely to have enough energy to get through your day or even earn that promotion.
It may sound counterintuitive, but if you're short on time, making a point to get some physical activity in the workplace can boost your energy and efficiency. Keep reading for our roundup of the top benefits of physical activity in the workplace, and how employers can encourage their employees to move more for increased productivity and performance.
Reduce Stress
Worrying about deadlines, presentations, or even your family's schedule can contribute to a buildup of stress. Some stress can be healthy, but excessive or chronic stress can increase the risk of health problems, such as hypertension, heart attack, or stroke. Making time for even moderate exercise, like taking a walk during your lunch break, can help reduce feelings of stress. Heart-pounding cardio exercises help to release endorphins, improve mood, and can even function as a form of moving meditation. Decreasing stress is the biggest way you can give your mental health a boost, which can increase your focus and performance on the job.
Improve Concentration & Memory
If you find yourself lagging in concentration in the middle of the workday, you aren't the only one. After staring at your screen for hours on end, you may wind up experiencing a mental fog that can rob you of your concentration. Getting up and active during the workday can help bring your focus back to your tasks at hand. Regular exercise can also help your brain's ability to focus in the long run, as it stimulates the production of chemicals in the brain that affect brain cell health. Additionally, keeping up with your physical fitness improves your chances of getting better sleep, which directly correlates to brain health and memory.
Enhances Creativity
Building on reducing stress and improving memory, physical activity in the workplace can help you be more creative. Studies have shown that there is a link between a physical fitness routine and being highly creative. It makes sense; getting away from your desk, changing your perspective, and providing your brain with oxygen and feel-good chemicals can bring a spark of inspiration to anyone. So, if you're looking for ways to help you think outside the box, grabbing your gym shoes for a quick workout might be just the ticket.
Improve Overall Physical Health
If you aren't physically feeling your best, it can hinder your overall work performance. While it's no secret that a regular exercise routine can stave off the effects of aging, reduce excess weight, and preserve heart health, keeping up with your fitness regimen can physically make you a better employee. Employees who are physically healthy take fewer sick days and find it easier to bounce back after illness or injury. This is not to say that you shouldn't take sick days! In fact, knowing when to stay home and rest, instead of working through an illness, can also make you more productive in the long run.
Encouraging Physical Activity in the Workplace as an Employer
If you're a boss or supervisor, encouraging your employees to increase their physical activity has numerous rewards for your overall business. Healthier employees are happier employees, and happier employees lead to increased retention, reduced absenteeism, and increased overall workplace satisfaction. With employees strapped for time during the day, there are a few things that employers can do to get their teams moving during the workday to take advantage of the benefits, such as:
1. Provide a Gym
If your team is in the office most of the week, equipping your workspace with a gym is an easy way to get employees moving during breaks. If you have the space and budget for the equipment, an on-site gym is a perk many workers would like to have. Having a gym also improves retention and recruitment efforts, so it's a win-win no matter which way you look at it.
2. Fitness Challenges
Many company health insurance plans come equipped with total wellness resources, like United Healthcare's affiliation with Wellable. Even if your insurance provider doesn't have an included wellness app with the ability to participate in guided challenges, you can still create something that provides some incentive for your team to get moving. Have a contest for the most steps walked during a month or create an event like "Walking Wednesdays" to get your employees away from their desks and get their blood pumping.
3. Encourage Movement with Activities
Team-building activities that encourage movement can kill two birds with one stone, so to speak. Improve camaraderie and collaboration across departments with company-sponsored physical activities such as recreational sports teams, participation in charity marathons, or even a company-wide Olympics. Here at LCS, we're fond of physical challenges to better connect with each other and get our teams active. Our 2023 LCS Olympics was a smash hit, and we're looking to make next year even bigger and better.
Get Up and Get Moving at LCS!
From the C-Suite down to our frontline employees, our team knows how to get moving and have fun while doing it! If you're looking for a job with a culture that encourages physical activity in the workplace, consider joining our team.