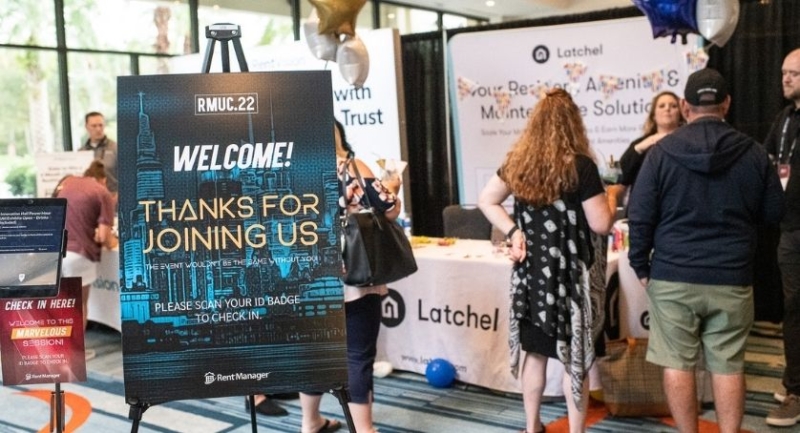 Professional conferences are a unique opportunity to network with other professionals in your field and learn about relevant topics from industry leaders. You've probably attended at least one in your career, perhaps even several. But has your organization ever considered hosting one? Putting together a conference is a time- and resource-intensive undertaking, but your organization can benefit greatly from doing so.
Business conferences give professionals a place to gather and discuss topics that surround a general idea, product, or industry. Demand for these kinds of events is high, too—according to a 2022 survey by TravelPerk, 79% of respondents were eager to network with others at in-person events. With such high interest, organizing a professional conference presents the opportunity to make connections and build a community that can propel your business to new heights. The host company often benefits from increased brand and name recognition, a greater understanding of audience needs within the industry, connections with potential partners and other organization connections, and more content to use for marketing purposes.
The Professional Conference Experience
LCS is no stranger to professional conferences—each year, we host the Rent Manager User Conference for our customers in the property management industry. This annual event brings together professionals from across the country for a week of engaging presentations, industry information, and Rent Manager knowledge. While organizing RMUC is a herculean effort, we recognize the importance of holding professional conferences for our industry, and year after year both our attendees and employees benefit from the experience.
Conferences aren't only limited to property management, however. You can host conferences for any industry or topic. As our team is putting the finishing touches on this year's event, we wanted to share our top 10 tips on how to successfully organize a professional conference. If your organization is thinking about an event like RMUC, our guide will help get you started.
1. Decide on a Purpose
A business conference should have a dedicated purpose first and foremost. This is the "why" of your event—why should people come? What will your event bring to the table that your attendees can't get elsewhere? Depending on your industry, the scope and audience of the conference can be broad—such as the entire property management industry—or a little narrower—like users of Rent Manager Property Management Software. You could even choose a particular topic or theme that all conference content will tie into. Whatever you choose, it should be clearly defined so you can present it to potential attendees. This theme or topic will be the basis of your marketing strategy, branding, and even the name of the conference, so choose thoughtfully. After this step, other conference checklist items begin to fall into place.
2. Assemble a Team
Unless you're superhuman, you probably won't be able to organize a professional conference by yourself. So, you will need to find the right people to help share the workload to make the event go off without a hitch (or without many hitches… there are always hitches).
Look for colleagues who are highly organized, dedicated, and have strengths that complement yours. Delegate the various responsibilities of planning a conference to people who will excel in their duties. Each conference team will be structured differently, but in general, you will need to have people who can handle budgeting, marketing, logistics, design, scheduling, sales, and communications. These areas may need an entire team of people, or just a few. Decide what is best for your conference based on how big you want your event to be and how many interested attendees you may have.
Not only will you need help planning and strategizing for the conference, but you're also going to need people to help run the actual event. From teaching sessions to helping your attendees navigate the space, you'll need people you can trust.
3. Create a Budget
Like most things, conferences require a financial component to succeed, and many aspects of the conference will need to be paid in advance, such as venue fees. You will need to determine how much your organization can afford to spend on the summit and divvy up the total amount into each individual charge. Make sure to set aside a budget for emergency funds—you never know if something will pop up last minute.
You should also decide how you will get a return on your investment—are you going to charge a registration fee for your attendees? Will you be selling sponsor packages to other companies? Or is your organization funding the conference entirely out-of-pocket? Take your financial source into account in your final budget.
4. Nail Down the Logistics
With a theme, budget, and a team to put it all together, the final step of the planning process is in the logistics. If the theme or purpose is the "why" and your organization and attendees are the "who", the logistics will account for the "when" and "where."
Here's a quick checklist to get you started on the logistical side of planning your conference:
Determine the Date(s)
When is your event taking place? Most fall during the work week, so your clients aren't forced to use up their weekend to attend. You also will need to decide if your programming warrants multiple days, or if the conference can be a single-day event. Be sure to set the date far enough in advance (several months to a year from your initial planning stages, at least) to allow yourself plenty of time to get the other key organizational pieces into place.
Determine the Location
What venue will host your conference? Will it be in a different city or location than what's local to your organization? You'll probably need to do a little math to figure out what venue will be the best fit. Different event centers have a variety of capacity limits—figure out how many attendees you think you can lock in, and find a venue that will fit that number, with some wiggle room just in case.
Determine the Accommodations
Unless your event is for local professionals only, chances are you will need to provide lodging accommodations for your attendees. Many convention or conference centers have attached hotels that offer special rates for events, so it's a good idea to get a block of rooms  for your attendees and staff. You also need to determine how you're going to feed your attendees, and if it's necessary to provide transportation.
Determine Registration Logistics
How will your attendees register to attend your event? How much will you charge? These questions should be answered before you even announce the conference. You should also make sure you have a cancellation policy in place, a registration deadline, and approved payment methods.
5. Gather Speakers & Sponsors
A stellar conference requires worthwhile guests to entice attendees to register. Research professionals with public speaking experience in your industry and reach out to invite them to speak at your conference. Many speakers do require compensation, travel accommodations reimbursed, or a free ticket to attend, so plan for guest speakers in your budget if you plan on having them.
As mentioned earlier in the list, you may also want to partner with other organizations and have them fulfill a sponsorship role. Offer a range of sponsorship tiers that your partner organizations can choose from, with varying perks and price tags. Once you and your selected sponsors have come to an agreement, the conference appearance will be a mutually beneficial event. The sponsor provides monetary investment, and the conference itself will provide the sponsor with exposure to potential clientele or other industry connections.
6. Put Together the Programming
In conjunction with securing speakers for your conference, you will need additional programming to fill out the schedule. What sessions or panels will be offered? Will you have networking events? What about meals? There are many possibilities, and if your conference spans the course of several days, you want to make sure your attendees have enough to do. Go back to your theme, or purpose, and choose programming that best fits your mission. Then, organize the schedule and post it ahead of time so your attendees can plan their conference experience in advance.
7. Do a Marketing Push
Unless you have a dedicated base of customers, colleagues, or industry contacts, you will need to get the word out about your conference. There are many options to market your event, including digital ads, mailers, press releases, and even radio or television commercials. Depending on your budget, you can choose the strategy that works best for your industry or niche.
When you chose your theme, you should have also chosen messaging and branding that aligns with the theme of the conference. This preliminary work should be the basis of whatever marketing avenue you decide on. Ensure that this messaging is consistent throughout your conference website, social media, and any ads you run. And start early—once you have enough of the pieces in place, you can start spreading awareness about your event in hopes of boosting attendance.
8. Embrace Technology
You may be using technology like social media already for marketing purposes, but technological solutions can help make the conference experience even more beneficial for your attendees. There are many mobile apps, like Cvent or Guidebook, that you can use to help your attendees navigate your conference. You can add event maps, schedules, session and presenter information, and even push out programming updates via push notifications. Utilizing an app like this can smooth over any unexpected changes and give your attendees peace of mind while they're at your event by giving them all the information they could need, in the palm of their hands.
9. Wrangle the Paper Load
Paper load doesn't necessarily just mean handouts, although it certainly encompasses them. A professional conference has a lot of moving pieces, many of which will be physical, branded items. Make a spreadsheet or document referencing all the printed materials you need, including handouts, brochures, posters/signage, nametags or badges, and other collateral. Include printing dates and costs, whether you need to print in-house or externally, and how the physical assets will make it to your conference space.
10. It Comes Down to the Details
While it may be last on our list, details are certainly not the least when it comes to your conference experience. Decorations, branded signage, music, and other small touches come together to pull the entire conference experience together. Your attendees will notice if you've gone the extra mile, or if the conference space seems bare bones. Make sure there's room in your budget for décor items and small gifts, like thank-you cards, that you can use to brand the conference space and make it yours.
Your Turn: Organize a Professional Conference
While our list merely scratches the surface of the professional conference planning process, it's enough to get the planning underway should your company decide to host your very own conference. The demand is clear—professionals from many industries enjoy the unique experience that a conference brings, and while it's a lot of work to bring one to life, the rewards outweigh the costs.
If you want to learn more about how LCS organizes the Rent Manager User Conference each year, you can read about last year's event on our blog, or check out the recap from Rent Manager.