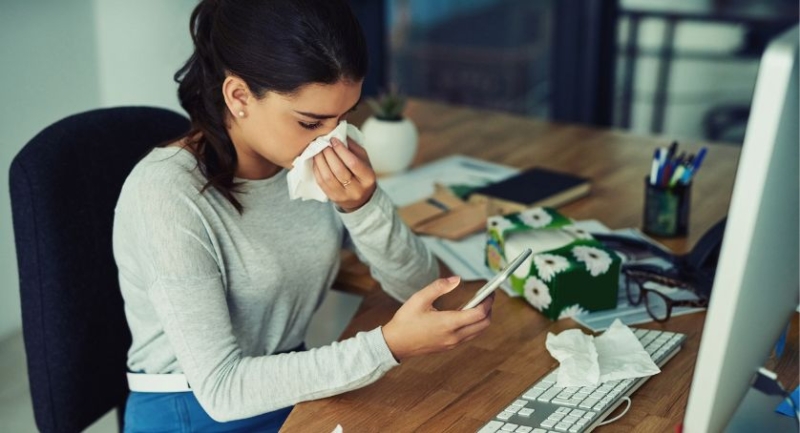 As the weather begins to cool and Pumpkin Spice everything starts appearing in stores, it's finally beginning to feel like fall. With the fall season comes shorter days, longer nights, cooler temperatures, and fun, spooky activities that you and your coworkers can participate in. However, fall also brings the dreaded cold and flu season, which makes staying healthy at work a challenge.
In 2022, a so-called 'tripledemic' of flu, COVID-19, and RSV hit earlier than usual, sending workplaces and schools into a spiral of respiratory illness. This year, the illness prospects seem mixed so far, but predicting the severity of the cold and flu season can be a bit like a shot in the dark.
Even if the season winds up being milder than usual, employees can still be at risk. Fall is also a busy time of year for many Americans, with school and work activities kicking into high gear. As temperatures plummet and people spend more time indoors, close proximity creates a breeding ground for viruses and other illnesses to spread.
Fortunately, staying healthy at work can be a little easier with proper prevention methods. Read our list of top tips to ward off illness this season, and make sure you take care of yourself while still enjoying all the fall festivities!
Get a Flu Shot
One of the easiest ways to make sure that the seasonal flu doesn't bring you down is to get your annual flu shot. Each year, health officials formulate flu vaccines based on research about which flu strains are likely to be prevalent that season. While many unvaccinated individuals may only experience mild symptoms from the flu virus, getting your annual immunization is a safe and effective way to prevent the worst of the illness. On average, 200,000 Americans are hospitalized with complications from influenza every year, and between 8,200 and 20,000 patients will die from flu-related complications. Keeping up with your flu shot will make it much more likely that you either will stay out of the sick bed altogether or experience milder symptoms with a speedy recovery.
Take Your Vitamins
Things haven't changed much since we were kids; taking your vitamins daily helps to supplement your food intake to keep you healthy. As the days get shorter and illness starts to spread, making sure you eat healthy and get enough vitamins either through nutrition or supplements can be the difference between feeling run-down and feeling your best. Most experts recommend increasing your intake of Vitamins A, B, C, D, and Zinc during the fall and winter months to boost your immune system.
Wash Your Hands
Yes, it may seem obvious, but you'd be surprised how many people skimp on washing their hands. According to studies, less than 75% of women and 50% of men wash their hands after using the restroom, which can lead to the rapid spread of disease. Luckily, you can significantly reduce the risk from diarrheal disease, foodborne disease outbreaks, and respiratory illnesses by simply washing your hands. Scrub your hands with soap and warm water for at least 15-30 seconds after using the restroom and before meals to protect yourself from many of the germs floating around your office.
Schedule Doctors' Appointments
If you haven't seen your doctor in a while, fall is a great time to schedule your annual physical. If you're younger and generally active, you may feel like you only need to see your doctor when you're sick. However, scheduling regular appointments will improve your rapport with your doctor, making it easier for them to diagnose and address if something's wrong before it gets worse. Primary care physicians can also make general health and wellness recommendations, like lifestyle changes, that can help you stay healthy at work and at home all year round.
Stay Active
Regular exercise holds a plethora of health benefits, from improved cardiovascular health to boosted mental wellbeing. When temperatures start to drop, you may feel tempted to skip out on the gym in favor of staying in bed. Try to resist the urge and keep up with your regular routine. Even just moderate exercise several times a week can be enough to boost your overall physical wellness, which improves your ability to bounce back from illness faster.
Get Enough Sleep
Americans are notorious for not getting enough Zzz's every night, and it can drastically affect your overall health. Only 38% of American adults report getting the recommended 7-8 hours of sleep per night. Sleeping is when your body heals itself, and if you aren't spending enough time with your pillow, your body will not be as well-equipped to fight off infections. Chronic sleep deprivation negatively affects your immune system, which in turn makes it harder to recover from periods of illness. So put down your phone, disconnect from work, and make sure you get plenty of rest this cold and flu season. Your body will be prepared to fight infection if needed.
Slow Down
Finally, you shouldn't ignore the relationship between mental and physical health this fall. With the looming holiday season, it can easily make you feel like your life is speeding up. It can be tempting to neglect self-care strategies when you're juggling multiple work and personal priorities. However, slowing down and making time to take care of your brain can help your physical health in the long run. Write in a journal, meditate, or do some light yoga to clear your mind and better equip you to take on your busy schedule. When you feel better mentally, it's easier to do all the above strategies that are necessary to stay healthy at work during the fall and winter months.
Stay Healthy at Work – Work Where You Love
At LCS, we take the health of our employees seriously. From scheduling on-site health screenings to participating in wellness challenges, we encourage our team to take care of their health so they can be happy, whole individuals.
If you're looking for a workplace that values your overall well-being, consider joining our team. Check out our open positions and consider applying today!